Ad Blocker Detected
Our website is made possible by displaying online advertisements to our visitors. Please consider supporting us by disabling your ad blocker.
Because the McNamara family can't imagine their home without a dog now after their four-legged friend helped them weather the stress of lockdown and school attendance during the coronavirus pandemic.
Victoria and Carl McNamara, both 37, decided in June 2019 to encourage guide dogs in training to help their nine-year-old daughter Esme, who was afraid of dogs.
And it wasn't long before the creature made a difference.
register

to our daily newsletter
The i newsletter

Cut through the noise

"/>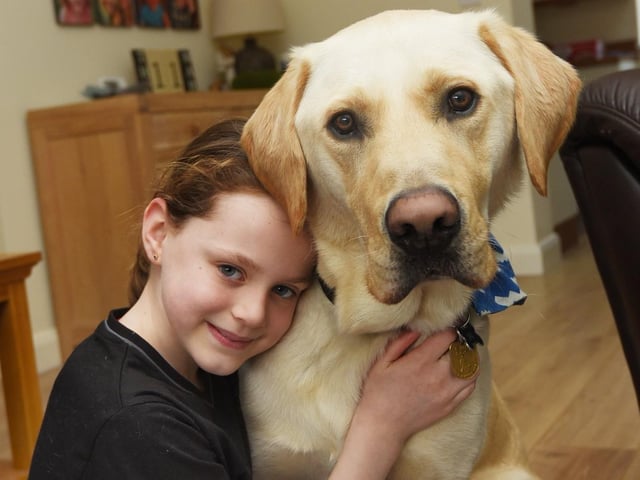 Esme and Casper
Victoria said, "Esme was petrified by dogs and because we live near the guide dog center in Atherton, we started grooming.
"Within a day of our first dog Buddy home, Esme was on the floor, petting him. He stole our hearts in a matter of hours. "
Charity Guide Dogs provides assistance to the blind or visually impaired, including training guide dogs to provide vital daily assistance.
There are four guide dog training schools across the country. The Atherton center has supported more than 400 dogs since it opened in 2009.
"/> Victoria, Carl and Esme McNamara at home with the budding guide dog Casper
The dogs train in the center from 9 a.m. to 5 p.m. on weekdays and then stay with the family overnight and on weekends.
It is a chance for the animals to socialize and participate in family life until they are ready to move on to the next level of education.
Carl said, "The dogs add extra fun to family walks, and their different personalities make each one special and memorable in their own way."
The family has so far welcomed four dogs named Buddy, Dev, Ralph and now Casper, a yellow Labrador Cross Golden Retriever.
During the first national lockdown, the training of guide dogs had to be suspended for a few weeks so that the Ralph family stayed at home.
He proved to be of great help to her sanity and wellbeing.
Victoria said, "Ralph was an absolute Messenger of God. A great distraction and a constant sense of fun. His tail always wagged no matter how we felt. It was great therapy to sit on the floor with him and stir him up and cuddle him. "
Victoria, Carl and Esme really missed seeing their extended family, whom they would visit regularly before the pandemic.
And their relatives missed contact with the dogs, so Victoria sent them videos so they could see the animal.
She said, "It's hard to say goodbye when the dogs move on, but as volunteers we get a real sense of achievement. We pride ourselves on being involved in the process and everyone is excited when we get a new dog. "
The budding guide dogs even helped with home schooling. Esme has been reading to the dogs, and more recently when asked to complete a comic book project for the school, she did one about guide dogs and the training dog, Casper.
Esme said, "Casper makes me smile when I feel down. I love to see him explore on walks and watch him fall asleep reading to him. "
Victoria and Carl both work as high school teachers, but they admitted that they were discouraged about homeschooling their nine-year-old.
But Casper was back to help.
Victoria said, "We are used to teaching our own subjects and there has been a real blurring of the lines between parents and teachers. It was a positive distraction to have a dog around, and a welcome relief just being able to take it with you to exercise. "
Grooming aspiring guide dogs is beneficial to the charity as the dogs are socially tested in a family setting and get used to all of the things they will encounter in their life as a qualified guide dog.
But it is also a chance for the family to enjoy looking after a dog while working full-time.
Victoria said, "The best thing about having a dog is that it takes us out for walks and when we know we are part of something special we feel so valuable. I wish we had done it sooner. "
To learn more about Guide Dogs' life changing work, visit www.guidedogs.org.uk
Thank you for reading. If you value what we do and can support us, a digital subscription is just £ 1 for your first month. Try us today by clicking here