Friday, March 4, 2022
French Bulldog Trekked to Purdue from Texas to Receive Treatment for Aggressive Form of Cancer
dr Timothy Bentley checks Dakota's vitals and reflexes during a follow-up appointment. Research from both Drs Bentley and Deborah Knapp demonstrates how naturally occurring canine cancers act similar to cancers in humans, making canines better candidates for clinical treatment than lab animals. (Purdue University photo/Rebecca McElhoe)
Dakota, a four-year-old French bulldog from Justin, Texas, has pushed the boundaries of what it means to be humanity's best friend, with the help of compassionate veterinary specialists at the Purdue University College of Veterinary Medicine who are also members of the Purdue University Center for Cancer Research. Dakota had developed a glioma, a form of brain tumor that is particularly dangerous to both canines and humans. She was brought to the Purdue University Veterinary Hospital where she received treatment for her cancer while also contributing to cancer research that may benefit both humans and canines.
the Purdue University Center for Cancer Research (PCCR) is one of only seven basic research laboratories recognized by the National Cancer Institute (NCI) and is the only basic science center with an affiliated veterinary college, said Dr. Timothy Ratliff, the center's Robert Wallace Miller Director and Distinguished Professor of Comparative Pathobiology in the College of Veterinary Medicine. The PCCR connects more than 130 researchers from across the University to collaborate on advancing all areas of cancer research. The distinctive partnership with veterinary scientists, including veterinarians Timothy Bentley other Deborah Knappmakes Dakota's treatment possible and positions PCCR to make the most of its findings.
Canine patients in clinical trials at Purdue's College of Veterinary Medicine (PVM), including Dakota, are contributing to a situation that helps pets, their owners, and cancer patients of both species. "We call it a win-win," said Dr. Bentley, associate professor of neurology and neurosurgery in the college's Department of Veterinary Clinical Sciences, who is overseeing the trial. "The clinical trials we're able to conduct mean that dogs receive treatments for their diseases that would normally be cost-prohibitive for their owners, and meanwhile, we're developing new treatments for both adult and pediatric patients around the world." For this particular study, Dr. Bentley has teamed with Dr. Renee Chambers, a clinician scientist and neurosurgeon from the University of Alabama at Birmingham School of Medicine, who received funding from the NCI's PRECINCT program for the work.
Dakota and her owners, Kaitlin and Erik Murphy, made multiple trips from Texas to participate in the study, which includes the initial surgery and routine follow-ups. As a dose-escalation study, the trial aims to gauge how well and at what dosages a conditionally approved immunotherapy is useful against gliomas. Glioblastoma, the most common glioma in humans, is almost invariably fatal — 95% of patients die within five years, according to the Central Brain Tumor Registry of the United States.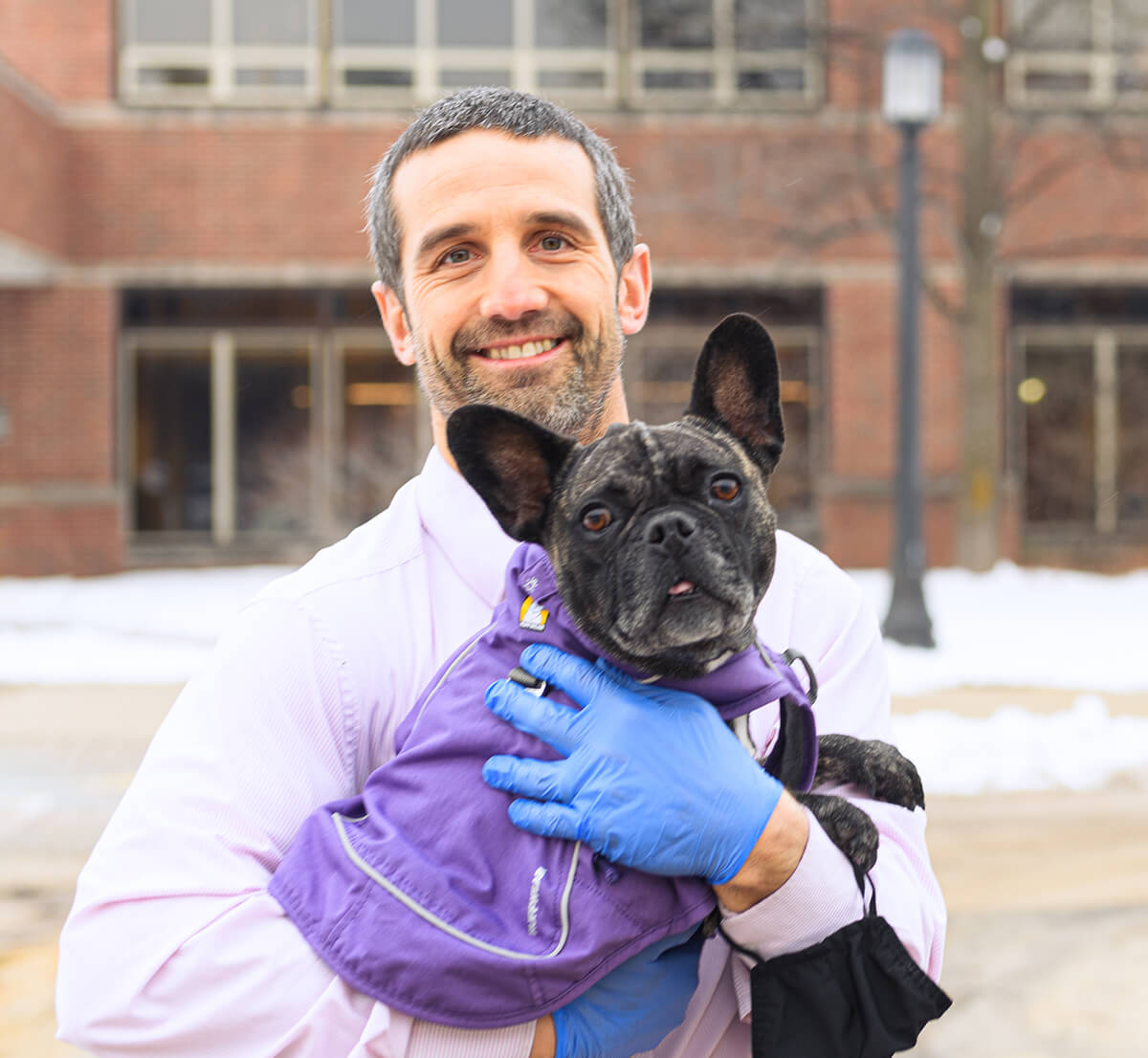 Dakota Murphy, a French bulldog who traveled from Justin, Texas, to participate in a clinical trial at Purdue studying the effectiveness of an immunotherapy treatment for brain tumors, is held by Dr. Bentley, associate professor of neurology and neurosurgery in the College of Veterinary Medicine, during a two-week checkup. (Purdue University photo/Rebecca McElhoe)
"Gliomas are likely to be the top pediatric cancerous killer. It's not as common as other cancers, but developing effective treatments has been extremely slow going and frustrating," Dr. Bentley said. Unlike traditional radiation or chemotherapy, which attack both cancerous and healthy cells, immunotherapies use a drug to mobilize the body's immune system into attacking only unhealthy cells. After surgically removing the glioma, Dr. Bentley injects a virus that has been genetically modified so that it is capable of targeting and infecting only cancerous cells.
"Surgery alone is never, ever going to be a cure for glioma, because even though we remove everything visible, the disease persists on the microscopic, cellular level," Dr. Bentley said. "That's where the virus works. We remove the formed tumor, and the virus attacks the cells that will continue trying to rebuild."
Because studying the efficacy of immunotherapies relies on an otherwise functioning immune system, the immunotherapies can be studied effectively only in natural settings. "We need a real patient with a real cancer and real immune system in order to see if it works. This is exactly where pets come in," Dr. Bentley explained.
Canine Patients Expand Scope of Cancer Data
For the past ten years, Dr. Bentley, alongside Dr. Knapp, Distinguished Professor of Comparative Oncology and the Dolores L. McCall Professor of Comparative Oncology, has been mapping the molecular and cellular similarities between some forms of canine and human cancers. Their research shows the benefit of funding canine cancer research for both canines and humans, and the US Food and Drug Administration is in agreement. Though the FDA has approved the virus used on Dakota as an investigational agent, meaning it can be used in clinical trials, the treatment cannot move forward without testing in naturally occurring canine cancers.
"The FDA said they needed to see the dose escalation in pet dogs with naturally occurring cancers – not in a lab animal," Dr. Bentley said. "This is exciting for me and Dr. Knapp because we've been shouting from the rooftops for years that our patients are the model the field has been looking for. Cancer in dogs has been proven to be more realistic and more predictive than lab animals."
dr Knapp, who focuses on a devastating form of bladder cancer, has advanced a number of drug delivery treatments, including a project with other PCCR scientists using a modified strand of an anthrax toxin. While her previous work has shown how similar these cancers are on the cellular level, Dr. Knapp has recently partnered with a colleague, Dr. Deepika Dhawan, a research scientist in the Purdue Comparative Oncology Program (PCOP), to show how human cancer research can also benefit from canine study at the molecular level. New information becomes visible at the molecular level, including the cancer's subtype, which can help predict how aggressive, how fast, and how far a cancer is likely to metastasize or spread, Dr. Knapp said.
"Subtype identification is emerging as one approach to begin to customize a patient's care, which can improve quality of life and quality of treatment. No one wants to just guess how aggressive we need to be, so this has the potential to allow us to personalize care in the future," Dr. Briefly explained.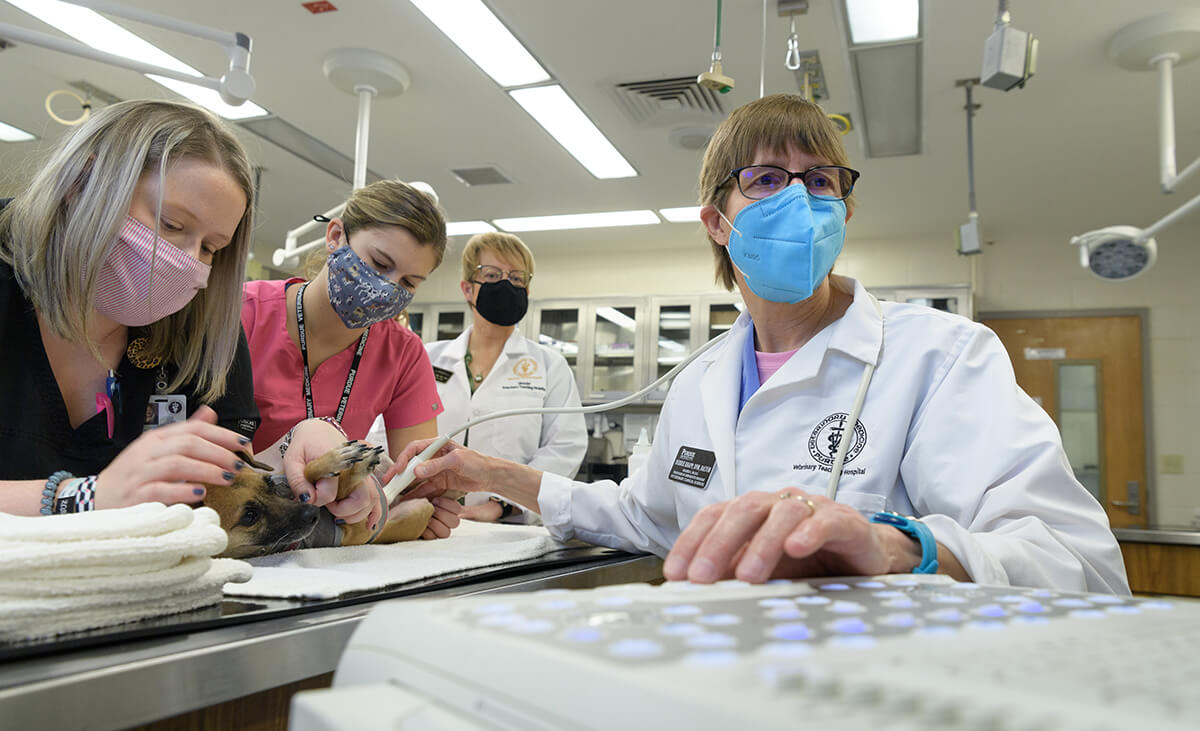 dr Deborah Knapp, the Dolores L. McCall Professor of Comparative Oncology, performs an ultrasound on a dog. The Purdue University Center for Cancer Research is the nation's only National Cancer Institute Basic Laboratory Cancer Center affiliated with a college of veterinary medicine. (Purdue University photo/John Underwood)
Studying canine tissue samples and observing patients in research and clinical settings innovates the trajectory of cancer research for both canines and humans by increasing the amount of available data.
In addition to her faculty position as a distinguished professor, Dr. Knapp also serves as director of PCOP and chairs a steering committee for the NCI's Integrated Canine Data Commons focused on facilitating the link between veterinary and cancer research. She also plays a leading role in the college's residency training, citing the importance of training the next generation of doctors and researchers.
"As a center of excellence in Purdue's College of Veterinary Medicine, the oncology program is making immense progress in four areas of research that seek to improve the outlook for people and animals facing cancer: targeted drugs, immunotherapy, early detection and intervention, and individualized care," Dr. Knapp said.
That the Murphys committed to traveling from Texas is evidence of the College of Veterinary Medicine's reputation as a center of excellence in comparative oncology research. Because of innovations by PVM and PCCR scientists, like Drs. Bentley and Knapp, and their rich collaborations with scientists like Dr. Chambers, new therapies are being developed and dogs like Dakota are receiving more quality time with their families. The dosage study has reached the maximum amount without any related side effects, and is, by all accounts, a success, Dr. Bentley said.
"We cannot say enough good things about Dr. Bentley and Purdue," Kaitlin Murphy said. Unfortunately, Dakota recently died of complications from pneumonia, unrelated to the cancer or procedure. "The extra months he gave us with Dakota are priceless. We are so lucky to have found him and this study and are so very thankful for the extra time and memories we had with Dakota."
Writer(s):
Christy McCarter, Purdue News Service | pvmnews@purdue.edu