Ad Blocker Detected
Our website is made possible by displaying online advertisements to our visitors. Please consider supporting us by disabling your ad blocker.
You're man's best friend, so should dogs be allowed in Australian cafes and restaurants?
Important points:
A local Victorian cafe owner has started a petition to allow dogs in Australian cafes
The petition has received 300 signatures so far
In Australia, dogs are not allowed in cafes and restaurants, with the exception of assistance dogs
For Jo Lowes, co-owner of Punkah Pantry in Porepunkah in Victoria's Alpine Shire, the answer is a resounding yes.
In Australia, food safety regulations prohibit dogs from entering cafes and restaurants, with the exception of assistance dogs.
But Ms. Lowes has started a petition urging Victoria's Health Secretary Martin Foley to change the state's legislation.
"As a cafe owner, I would be very happy to welcome dogs into the house," she said.
"I just want the opportunity. That's all I ask."
Finn models good cafe behavior. (
Delivered
)
Dog lover wants to open up to four-legged friends
Ms. Lowes is a dedicated mother dog to 13 week old Bordoodle (Border Collie-Poodle-Cross) Finn.
She would love to sit in a local cafe with her four-legged friend on weekend getaways with husband John.
At the moment she is concentrating on giving her customers this opportunity.
"We live in the Alpine Shire and have an outdoor area in our cafe," she said.
"But you can't sit outside in the middle of winter or middle of summer. It's too cold, it's too wet, it's too hot.
"That's where I come from."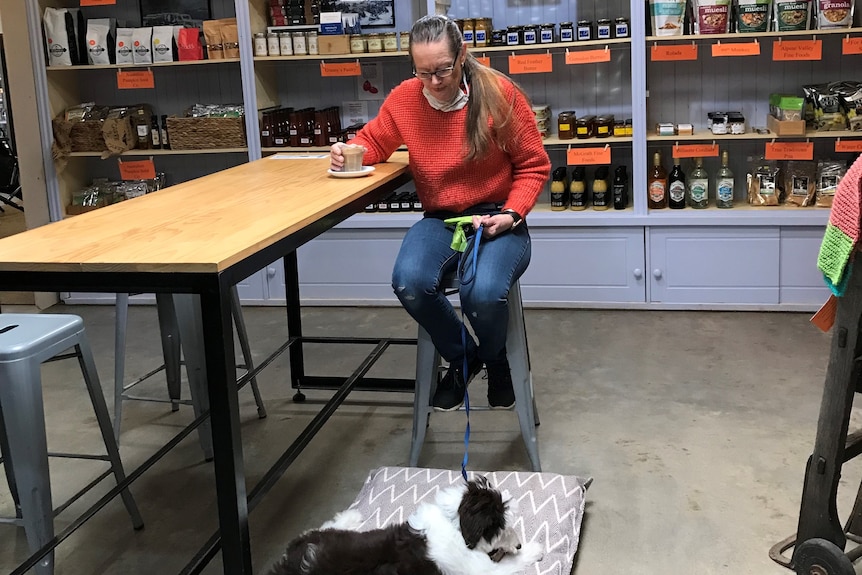 Finn enjoys some time with Mrs. Lowes in her cafe. (
Delivered
)
Health and safety concerns for some
In one week, Ms. Lowes' petition received more than 320 signatures.
But not everyone is excited about the idea, as many are concerned that opening the doors to dogs could endanger public health – and peace of mind.
Ms. Lowes believes this will not be a problem.
"We have a pretty large area, concrete floors and [customers] know that we are no-nonsense people and that we couldn't stand barking or bad behavior, "she said.
Regarding hygiene concerns, Ms. Lowes said there should be guidelines for dogs and areas where food is prepared, handled or stored.
"You don't let a child run around in the kitchen of a coffee shop or where the food is stored or handled," she said.
"There really isn't that much of a difference here."
Change of law not a new concept
Ms. Lowes insists that her proposal is not incomprehensible, as "half the world" has allowed dogs in cafes "and has been for many years".
Once the petition has received enough signatures, Ms. Lowes plans to take it to local MP Tim McCurdy so he can "bring it to the right party."
In the meantime, she's keeping her fingers crossed that it will get some traction.
"None of my clients said, 'If you do this, I won't be back,'" she said.
"Even those who don't have dogs aren't as excited about it."