Ad Blocker Detected
Our website is made possible by displaying online advertisements to our visitors. Please consider supporting us by disabling your ad blocker.
Drug box 288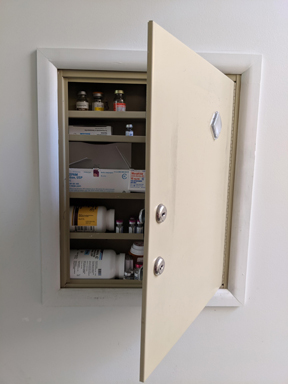 Photo by Dr. John Daugherty
Veterinarians store medications and other supplies in drug safes like this one at a veterinary clinic in Ohio. Australia is considering regulations that would require veterinarians to lock up pentobarbital-based solutions when they're not in immediate use. It's one of several proposed measures aiming at curbing veterinarian suicide by impeding easy access to the euthanasia drug.
It had never crossed Dr. Sarah Morton's mind that her close workmate, a bright and principled young veterinarian, would use the euthanasia drug pentobarbital to take her own life.
So when the seemingly unthinkable happened last August, she was shell-shocked.
"It affected the practice like nothing else," Morton, a companion animal practitioner based in Queensland, Australia, said in a telephone interview. "It really floored the entire team, and our clients, for at least three months."
If anything good came from the experience, Morton said, it helped bring her tight-knit crew even closer together. "We've slowly rebuilt and found a new normal, I guess," she said. "But it's taken a long time."
Another veterinarian, Dr. Jane Donald, tells of a colleague taking her own life inside the clinic where Donald works in the state of South Australia. She, too, had given herself a lethal injection of a solution containing pentobarbital.
Donald, who requested to use a pseudonym for this article due to the sensitive nature of the topic, said her team couldn't help feeling partly responsible, even though it later became clear that their colleague had been quietly suffering from mental health problems.
"I guess there's a little bit of …" Donald paused, before adding, "You feel a bit ashamed. You wonder: Are we horrible people? I think we put a lot of it on ourselves."
Donald said it was the fourth time in her 20-year career that she had lost a veterinarian colleague to suicide.
She and Morton shared their experiences with the VIN News Service at a time when increasing attention is being paid globally to how pentobarbital use in veterinary practices should be regulated.
Pentobarbital, marketed as Nembutal, is an oxybarbiturate that has been used in veterinary medicine since the early 1930s, initially as an anesthetic. Its use in anesthesia has been superseded largely by other substances, but it is occasionally used for sedation and to treat epileptic seizures.
Pentobarbital also is the primary ingredient in most commercially available euthanasia solutions, including brands such as Euthasol, Lethabarb and SomnaSol.
Now, an important test case on pentobarbital use is underway in Australia. Federal authorities there are reviewing whether to upgrade the drug to so-called Schedule 8 (S8) status, putting it on par with cocaine, opium and methamphetamine.
The review was triggered by a state-based coronial inquest that investigated the recent deaths of a veterinarian, aged 30, and a veterinary student, aged 25, both via pentobarbital injection. In its findings last October, the coroner's court recommended that pentobarbital be classified to an S8 drug, upgraded from its current S4 status.
That call met strong resistance from within the veterinary community, including from the Australian Veterinary Association (AVA), out of concern that disrupting access to pentobarbital will be bad for practice management and animal welfare. Raising the drug to S8 status in Australia, for instance, would force practitioners to lock pentobarbital-based solutions in a drug safe when they're not in immediate use, or in a locked vehicle during emergencies. Practices also would have to log usage in a drugs-of-addiction register, down to the nearest milliliter, that authorities would regularly audit.
The review in Australia, being conducted by the country's Therapeutic Goods Administration (TGA), is ongoing. But in a win for the AVA and others opposed to heavy regulation, the TGA has indicated that the rules likely won't change or, at least, not by much.
In a preliminary decision dated June 10, which remains open to public comment, the TGA resisted calls to upgrade the drug's status to S8. It did, however, decide that pentobarbital must be stored in a locked container to prevent unauthorized access — a condition already mandated by some Australian states, including the most populous, New South Wales.
A final decision by the TGA is expected in August. It is rare for the regulator to reverse a preliminary ruling.
The role of pentobarbital in veterinary suicide
For help
In the U.S.: The National Suicide Prevention Line, (800) 273-TALK (8255)
In Canada: Crisis Services Canada, (833) 456-4566
In the U.K.: Samaritans, 116 123
In Australia: Lifeline, 13 11 14
In New Zealand: Lifeline, 0800 543 35
In the United States, pentobarbital in its purest form is classified as a Schedule II drug, which is similar to S8 status in Australia. However, if pentobarbital is mixed with certain other substances, its status changes to the less-strict Schedule III. The anti-seizure medication, phenytoin, or the local anesthetic, lidocaine, often are added to commercial solutions for veterinary practice.
In the U.S., all states recommend pentobarbital as the top method of animal euthanasia, and some states legislate it as the only method, according to research by the American Veterinary Medical Association. Other, less commonly used methods allowed by some states include carbon monoxide chambers.
Euthanasia solutions in the U.S. must be stored in a safe, steel cabinet or cage. Sources interviewed by VIN News, however, said anecdotal evidence suggests that in the hustle and bustle of practice, drug boxes often are left open to allow for fast access to quickly end animal suffering.
Record-keeping rules apply to Schedule III drugs in the U.S., though usage doesn't have to be recorded to the nearest milliliter, as it does with Schedule II drugs.
In Canada, pentobarbital has the relatively light controlled substance status of Schedule IV but still must be locked up when not in use. In the United Kingdom, it is categorized as a Class B, Schedule 3 substance. Only some Schedule 3 drugs — namely buprenorphine, diethylpropion, flunitrazepam and temazepam — must be kept in a locked drugs cabinet in Britain. The Royal College of Veterinary Surgeons "considers it advisable" for all Schedule 3 drugs, including pentobarbital, to be locked away.
Debate about pentobarbital access is intensifying as academic studies increasingly show that the drug is one of the most common mechanisms — if not the most common mechanism — for suicide among veterinarians.
Multiple studies indicate that veterinarians are far more likely than the average person to take their own lives. One of the latest, conducted last year by the U.S. Centers for Disease Control and Prevention, found that male veterinarians were 2.1 times as likely to die by suicide as the general U.S. population. For female veterinarians, the proportion was higher still, at 3.5 times.
Myriad reasons have been offered to explain that unsettling discrepancy. Stressors mentioned in a CDC survey of 11,627 U.S. practitioners published in 2015 included long hours, distress associated with euthanizing animals, guilt over making surgical mistakes, copping abuse from clients and worrying about high levels of student debt.
A large number of drugs in veterinary practice potentially could be used to the same effect as pentobarbital, the AVA noted in its submission to the TGA. "However, there is no doubt that pentobarbital is the only one of these that is widely recognized as a means of suiciding," the AVA said.
Studies have found that firearms also are often used for suicide, particularly among males. Rates of suicide using firearms are comparatively lower in some countries outside the U.S, such as Australia, which have much tighter restrictions on gun ownership.
Still, in a recent study of suicides involving U.S. veterinarians between 2003 and 2014, among 73 cases, poisoning was the cause of death for 47%, followed by firearms, at 40%. Among those who had taken poison, 53% used pentobarbital.
One of that study's authors, Tracey Witte, an associate professor at Auburn University's Department of Psychological Sciences in Alabama, believes there is a strong link between veterinary suicide and access to pentobarbital. For one, she points out that while veterinary technicians also are more likely to die of suicide than the general population, they are far less likely to use pentobarbital than veterinarians.
"I think the very specific knowledge that veterinarians have makes pentobarbital in their hands more dangerous as a suicide method because they've been specifically trained on how to enact death with it," Witte told VIN News in a telephone interview.
Witte said her research indicates that even though veterinarians face multiple stressors, such as demanding hours and difficult clients, those stressors aren't unique to the veterinary profession.
"The evidence that we're seeing is that the main unique factor for veterinarians does seem to be this pentobarbital access and knowledge," Witte said. "Veterinarians, like workers in many other stressful professions, may have stressors, and that should be addressed. But the problem is when that's combined with access to this deadly substance that is often readily available."
In Australia, the coroner's court made the same point, stating that "a holistic approach also necessitates the introduction of measures for when increased education and support does not work."
Why regulating pentobarbital use is so hard
Preventing suicide by pentobarbital injection presents a clear challenge in the veterinary profession: How do you keep suicidal practitioners away from a drug they need to access daily to do their job?
An AVA survey in 2016 indicates that veterinarians are largely opposed to having their access to pentobarbital impeded, beyond a requirement to keep it away from non-veterinarians. Of responses from 2,031 members on whether pentobarbital should be upped to an S8 classification, 62.3% said no, while 78.5% didn't think doing so would decrease the rate of suicide in the profession.
In a submission to the current TGA review, the association said it followed up with similar questions this year, though a relatively small number of members responded due to the short timeframe involved. The comments it received, it said, were consistent with the previous survey.
According to the AVA, veterinarians are particularly worried about having to record pentobarbital use in a drugs-of-addiction register. "Specifically, the increased recording and audit requirements associated with the S8 schedule would simply add an ineffective level of administration for no net public benefit," the AVA said. "It is felt that a far better outcome in terms of reducing suicide rates and from a practical standpoint can be achieved via significant change in the regulations surrounding pentobarbital access and storage."
One problem with recording substance use in a register is that it is intended to safeguard against repeated theft due to drug addiction. But in the case of pentobarbital, the AVA argued, the drug needs to be used only once for the purpose of suicide. By the time anyone noticed a small amount of the drug was missing, it could be too late.
It also is questionable whether anyone would notice anything was missing. The volume of pentobarbital regularly used in a typical veterinary practice is large compared with the amount needed to end a human life. In its preliminary ruling, the TGA agreed, stating that record-keeping in an S8 register is "inherently less robust" where bulk liquid forms of medicines are being recorded, compared to divided doses such as tablets or ampoules.
Morton and Donald, the veterinarians who recently lost colleagues to suicide, are nevertheless wary of tightening the rules on the euthanasia drug. Morton said she still wouldn't deny access to pentobarbital to her colleagues. "If the day rolled around again and I had no idea what was going to happen, I still would have given it to her," Morton said. "She could come into the clinic at any time and access the safe. All vets can. We're a pretty ingenious bunch. If we put our minds to something, we're going to make it happen."
Morton would like to see more emphasis placed on mental health while veterinarians are at school, perhaps by integrating talks by well-being experts into coursework, or by checking in with students to make sure a career in veterinary medicine is right for them. "There's no screening as we go along through our course of how we do cope and what sort of mental health journey we're on ourselves," she said.
Morton suspects veterinary medicine draws a lot of perfectionists suffering from a "God complex" who may need to be shown that they don't have to take responsibility for sad outcomes. "Sometimes it's a wave coming into the beach and it doesn't matter how much jumping up and down you do, you're not going to stop it," Morton said. "You can't. Dogs and cats will die."
Donald, for her part, said that immediately after her colleague's death, her practice started locking up pentobarbital. Usage is now recorded in a book placed atop a safe that is accessible only to veterinarians.
"It's good in that way, but vets do need it as part of our job and that can be after-hours, so we have access to it, no matter how it's stored," she said. "It's unfortunate that a lot of talk on this issue is just around the drug. It's not about why are vets using the drug."
Time to start thinking about the box?
Dr. Morton 288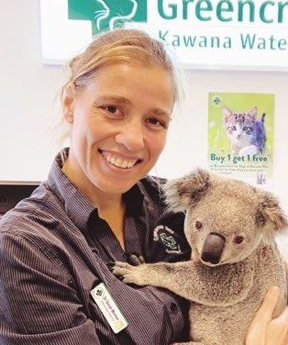 Photo courtesy Dr. Sarah Morton
Dr. Sarah Morton, a companion animal practitioner based in the Australian state of Queensland, was shocked when a young veterinarian and close colleague took her life using pentobarbital. While it was a painful experience for her and her team, said Morton, shown here with a koala named Arlo, she is wary about tightening restrictions on the euthanasia drug.
Some veterinarians believe that the profession could be doing more to control access, without the need for any new laws. Among them is Dr. Andy Roark, a U.S. practitioner based in South Carolina.
Roark advocates for the voluntary use of what he describes as a "four eyes" method of pentobarbital access. As its name suggests, the method entails two people being present in order to access a drug box, thus preventing veterinarians getting access when alone. This could be achieved by keeping drugs in boxes with two separate locks, or, for a greater cost outlay, investing in sophisticated double-lock safes accessible using fobs, or perhaps even fingerprint technology.
Roark posits the system could be effective because research suggests that in many instances, high-risk windows for veterinarian suicide are relatively short.
"If we look at the data, suicide is often an impulsive decision and people are going to make an attempt within a short period of time of making that decision," he said in a telephone interview. "Every time we trip them up in that short window, the clock can reset."
Witte's research published in 2015 backs that claim. She found that veterinarians in the CDC survey published in 2015 were less likely to have a history of non-fatal suicide attempts than the general population. But they were more likely to have suicidal thoughts.
"We think that what's going on is that vets may be at elevated risk of thinking about suicide, and when they make an attempt, they're more likely to die from it because of their access to, and knowledge about, lethal means," Witte said.
"They're not going to have a series of suicide attempts where they don't die, which points to the need to intervene on accessing these methods during a crisis specifically."
Roark's four-eyes suggestion has received some pushback. Obvious problems arise in solo practices, and in instances where veterinarians in a busy practice find themselves alone — for example, should they need to drive a long distance, starting off early in the morning from home, to euthanize a horse.
For her part, Morton is skeptical the four-eyes system could work fluently in a busy practice without compromising on animal welfare. "If you've got something that's suffering and you need to put it to sleep, you need to put it to sleep," she said. "You just need to get it out."
Morton also said she'd feel uncomfortable about forcing other staff members to access pentobarbital with a chaperone. "I completely trust all my staff," she said. "I wouldn't question their integrity."
The other Australian veterinarian who recently lost a colleague, Donald, believes the four-eyes method could work fine during the day. "But if you're caught out after-hours or that sort of thing, you're often by yourself, so you would then have to call someone else to come in," she said. "So I think, practically, it's probably not really workable for the general practice."
Roark accepts the four-eyes method may not be for everyone. "Nobody thinks it's the cure-all answer," he said. However, he contends that just because the method isn't perfect doesn't mean it should be ruled out entirely. Some, but not all, of the practices that have adopted the model, he said, have been larger outfits with multiple staff.
"If you have someone who is constantly considering suicide, I think drug restriction is probably a losing battle with that person because they will find another way," Roark said. "But let's stop people who impulsively get this idea. And let's continue to work on systems to get those people help."
Witte is equally careful to stress that there probably is no single winning solution. "I think it's totally understandable that people might initially have a knee-jerk reaction thinking that a certain proposal isn't going to work, or that this is glossing over many other problems in the profession, like mental health stressors," she said. "But I'd just ask people to try and keep an open mind and think about this as one addition to the overall toolbox that we have for preventing veterinary suicide."
Witte and one of her doctoral students are planning to start interviewing U.S. veterinarians in the next month or two about how they currently store pentobarbital in their clinics and what modifications might be feasible in their particular settings.
The four-eyes method is one of the more clearly-articulated ideas that Witte said she'd seen so far. "I think there are a lot of people who really like four-eyes, but there are certainly barriers to that approach," she said. "So we'll need to get more creative, and we'll probably have to come up with a package of ideas."
VIN News Service commentaries are opinion pieces presenting insights, personal experiences and/or perspectives on topical issues by members of the veterinary community. To submit a commentary for consideration, email news@vin.com.