Ad Blocker Detected
Our website is made possible by displaying online advertisements to our visitors. Please consider supporting us by disabling your ad blocker.
Via the ArtsCenter, interview by Patrick Phelps-McKeown
The ArtsCenter's new interview miniseries "Venues in a Pandemic" talks to organizers and operators in our community about how the COVID-19 pandemic and the subsequent relief measures have affected them and their work as moderators of live music.
Frank Heath is the owner of Cat's Cradle, a legendary Carrboro music venue that is also the neighbor of the ArtsCenter on East Main Square. We spoke to Frank about the challenges of COVID and how the Cradle found creative ways to keep musicians running and supporting over the past year.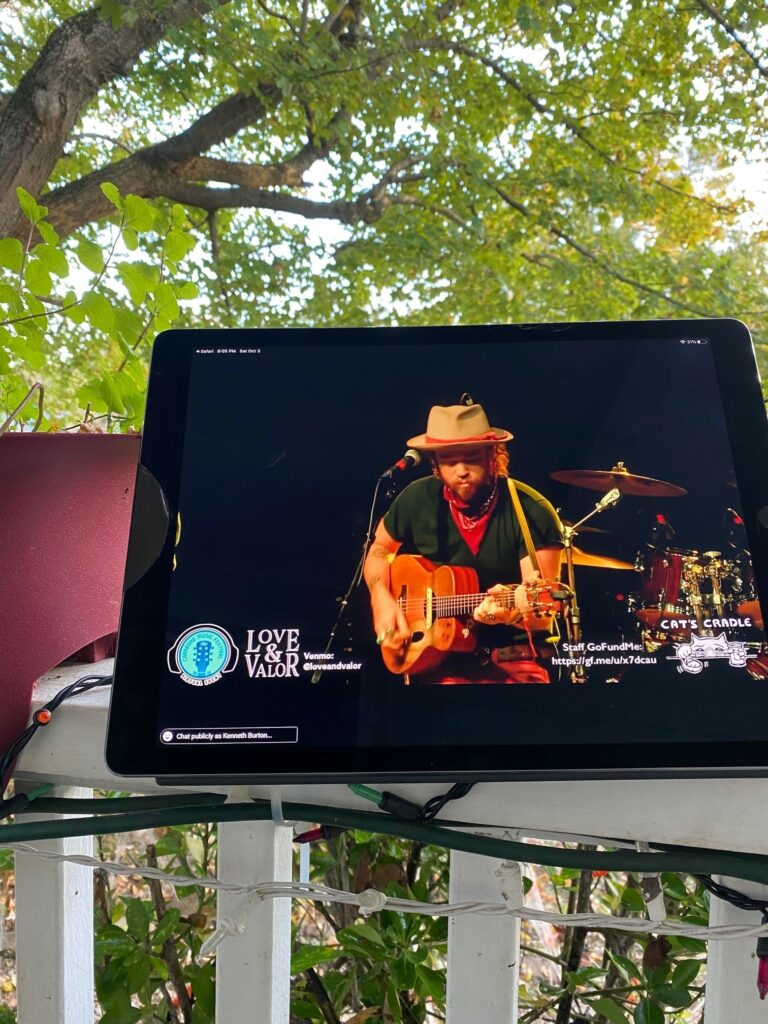 At that point, it was nearly a year of the pandemic in the United States. When was the last personal show you did?
FH: The last show we hosted was Songs From the Road Band, which played in the Cradle Back Room on March 13th, 2020. That was a nervous evening. Everyone was very careful where they went and what they touched.
Our main room show for the following night (March 14th) was Radical Face and was canceled, as was VERSUS in the back room. The last show in the main room that took place was Destroyer on March 11th. We were about 70% present that evening, based on the number of people who bought advance tickets.
I've attached our Indy ad from this Wednesday as a historical document (see below).
When did you realize how serious COVID-19 was going to be and started rescheduling shows?
FH: Around 11:30 a.m. on March 11th, when the NBA stopped all games and canceled their season, based on Rudy Gobert's positive diagnosis. For the next week basically all I and the Cradle staff did was communicate from local agents about rescheduling shows, refunding tickets, updating websites … at first there were a lot of reschedules for just one or two months. Then when we were in April they wanted to move the show dates further out.
How did your venue adjust to not having in-person shows? What are some challenges and achievements when changing your music presentation?
FH: The most important achievement was that we slowly and carefully learned that people can still do things during this pandemic if they are very vigilant about following health guidelines and protocols – and respecting the spread of the virus. I also quickly learned that our Tech & Show Setup staff have impressive IT and creative skills that have helped make most of our live streams go very well. That nearly a year span was pretty dry in terms of direct income from actual concerts. However, it turns out that there are many potential aspects to the delivery of content that no one really paid much attention to before COVID made it necessary to get creative in order not to go crazy. Bottom line is: people love to create, deliver, and consume music and other forms of entertainment, even if it doesn't involve any financial payoff.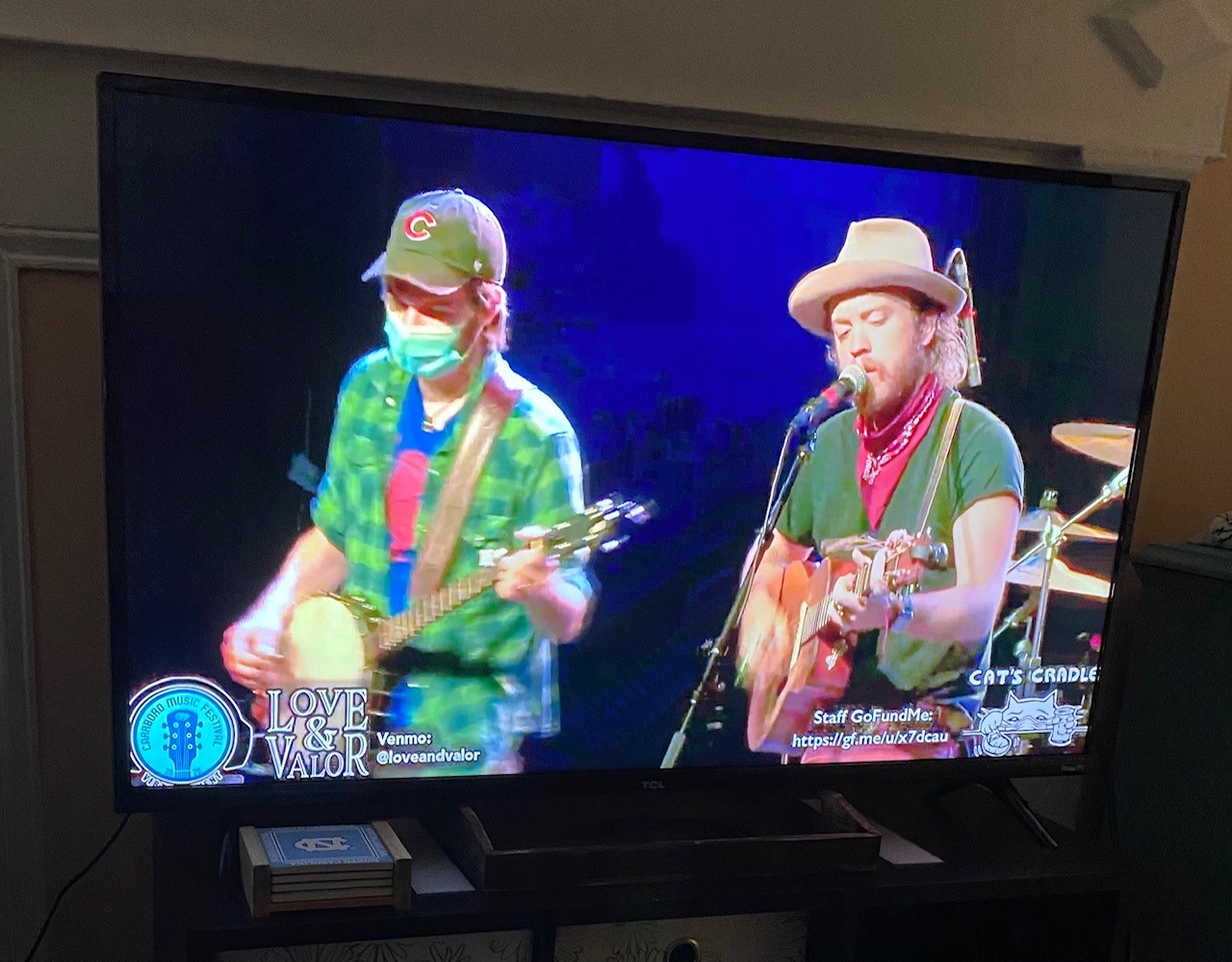 What would you like to make the public understandable about the current venues?
FH: I think it is not clear or obvious to a lot of people that we are an industry that resembles an aircraft carrier, as it cannot start and stop in an instant. Most artist tours are in preparation for a year or more. For example, the band takes into account that they might want to take to the streets when their last album has just come out or at some point when the students will be back at colleges and so on, so a lot of pieces determine when they will to go on tour. Once an artist says they want to take to the streets, it takes a few more months for the agents to set up that tour and try to pull together all the data across the country to make it a workable routing. Once you've set an appointment, three, four, or six months in advance, a lot of logistical work and resources will go into announcing and promoting the show.
And all of this planning and logistics work has to be done 400 times a year for a promoter like Cat's Cradle, as we book two clubs and other venues to keep the entire operation financially afloat. For this reason, most venues and concert promoters could not really know or predict when and in what form the concerts would start again. It's just an unfortunate reality that the model doesn't work very well for clubs, up to 98% realize that "in six months, things are going to be 100% open in most places," and we're not even going to start shows for sale again.
In general, I would say that the public has been very supportive of Cat's Cradle and other venues, especially given how badly it has affected many people as individuals.
What has to happen to keep the venues afloat?
FH: Well, the Save Our Stages bill was included in the December 2020 stimulus package that was passed, and that grant money essentially covers all expenses of the qualifying venues through at least the end of this year. We just need to keep our fingers crossed so the SBA can identify exactly which venues are hardest hit and help them first. Assuming this happens as intended and the grant program actually distributes those funds soon, a large chunk of the venues that form part of the backbone of the live music ecosystem will have access to life support, at least via the internet, by the end of this year . It won't be an easy task for the SBA, however, as there are thousands of venues that have been dark for a year. and there are tens of thousands of other companies that include elements of live music and may also qualify for or approach these grants. So we have to wait and see.
You helped spread the word about NIVA and the Save Our Stages Act. Could you talk about and how advocacy has changed things for venues?
FH: The founding of NIVA in April 20 was a critical glimmer of hope for music venues when things were looking really bad. Dayna Frank, owner of the First Avenue Club in Minneapolis, made the concept a reality, and Dayna has served as a guiding star for the organization throughout. But many, many others have brought endless passion, determination, and expertise to the NIVA endeavor. I think the main reason for success, when so many efforts to influence legislative policy are unsuccessful, is that NIVA has always taken the stance that EVERYONE who has supported live music as a venue goes into any kind of financial Rescue program must be included. It can't just be about First Avenues and 9:30 clubs – because without smaller venues like (for example) Local 506 and The Kraken and Nightlight and Pinhook, bands can play shows when they're just starting out. Many bands will never get that far develop that they are nationally known.
NIVA also took a huge strategic step very early on by using the early donations to secure the services of a really strong DC lobbying company, Akin Gump. Akin Gump was a great partner, attending every Zoom meeting (there were lots of Zoom meetings …) and helping NIVA with precise suggestions and advice in making so many of the critical steps and decisions that ultimately led to securing congressional support for "Save Our Stages".
One thing I have learned from participating in the NIVA effort is that if there is a group of people who could develop and implement a better and more equitable system for this country, it might very well be the people who our music venues own and operate it – for a variety of reasons. While NIVA does not have superpowers, it does have representatives from venues in thousands of cities in all 50 states, most of which are immersed in the atmosphere of their cities and regions. And NIVA members have a joint contact list of loyal supporters that is in the tens of millions and extends deep into the base of every state.
Because music has such a universal appeal, NIVA's support spans most, if not all, cultural, demographic, and political boundaries. And because so many venues and owners are in this business for their love of music, not just for a living, there is an amazing reservoir of innovation and execution skills in the pool of workers in this industry.
When do you think live music will be back?
FH: Well, it's already back in some places, albeit in a shortened or ill-advised form. But if COVID cases continue to decline, some people are confident that open-air concerts will gradually normalize towards mid-to-late this summer, albeit to a much lesser extent than in previous years. On the other hand, based on the COVID numbers and the effectiveness of the vaccine, it seems possible for indoor venues to evolve into detached shows with reduced capacities starting this fall. At least that is the current hope. It will still depend on many things going right. We are all aware that many people want to exercise caution the first time, for good reason, they do things that have been considered unusual.
How can people support Cat's Cradle during this time?
FH: My favorite way for people to directly support Cat's Cradle is by purchasing the COVER CHARGE compilation (https://covercharge.bandcamp.com) which has an incredible collection of great recordings from North Carolina artists performing their favorite songs from other play acts. The cover fee was pulled together at short notice last summer by some amazing local people to help out Cat's Cradle and they provided us with emergency funds to cover some of our ongoing expenses like rent, utilities, taxes, etc.
Equally important is that fans continue to listen to and financially support local bands and artists (i.e. by buying their music online or donating through their funding links) because without the bands and musicians who grounded us, a venue is truly a soulless one Place.
Follow Cat's Cradle on social media: Facebook | Twitter | Instagram
Buy the Cover Charge Compilation: https://covercharge.bandcamp.com/
Check out the ArtsCenter blog: https://artscenterlive.org/blog/
The ArtsCenter would like to thank Frank Heath for taking the time to share these views. Are you a venue owner wanting to share how COVID has been on your venue? Email Patrick Phelps-McKeown at marketing@artscenterlive.org.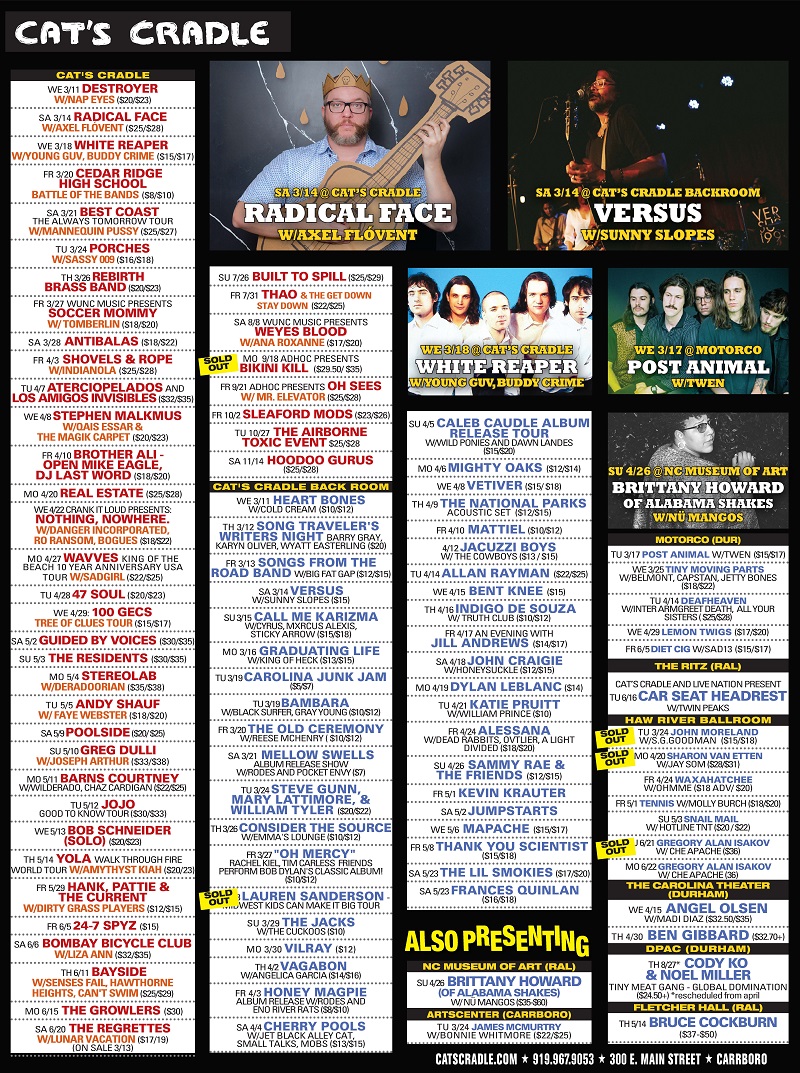 ArtsCenter is a 501 (c) (3) nonprofit arts education organization based in Carrboro, North Carolina that offers courses, performances, and art exhibits year round. ArtsCenter's facilities include a 350-seat theater, classrooms, dance studio, 100-seat performance room, and an art gallery. The ArtsCenter is Orange County's largest artist employer, serving more than 100,000 students and citizens across the region.
connected