Ad Blocker Detected
Our website is made possible by displaying online advertisements to our visitors. Please consider supporting us by disabling your ad blocker.
Andriy Kletsov and family
Photo by Dr. Andriy Klietsov
dr Andrii Klietsov, owner of three veterinary practices in Sumy, Ukraine, near the Russian border, took shelter on Tuesday with his children, nephew and wife, Nataliia Klietsova (not pictured), as air strikes loomed.
As Russia escalates its attack on Ukraine and advances on the capital city of Kyiv, Dr. Andrii Klietsov, a 41-year-old veterinarian, is in his practice in Sumy, near the Russian Federation border, blaring the sound of air strike alarms.
People are panicking, some asking that he euthanize their healthy pets. So far, he's refused all requests.
Klietsov, who owns three veterinary clinics in the northeastern Ukrainian city, has spent seven days navigating the Russian invasion. At least one of his clinics remains open to provide first aid to animals and people. It's run by a skeleton crew, just five of a 23-person staff. "The rest are in bomb shelters," heeding repeated warnings to take cover, Klietsov said.
When he isn't working, Klietsov shelters with his wife, Nataliia Klietsova, a law professor at Sumy National Agrarian University, the couple's three children, and other family members. Reached via the messaging platform WhatsApp, he described to the VIN News Service a country growing desperate and facing imminent peril. "Excuse us…we need quadcopters or the location of Russian troops," he wrote this morning, unable to chat.
In messages on Tuesday, he told of life amid a war that began during the early morning hours of Feb. 24. Urban warfare has resulted in civilian casualties, including some in the veterinary community. Russian forces reportedly shot and killed Drs. Anton Kudrin and Svetlana Zapadynskaya, both veterinarians, and their daughter, Polina, on Saturday, when the family was stopped in their car on the outskirts of Kyiv. The couple's other two children were hospitalized; one of them reportedly died today.
Flyer for Drs. Kudrin and Zapadynskaya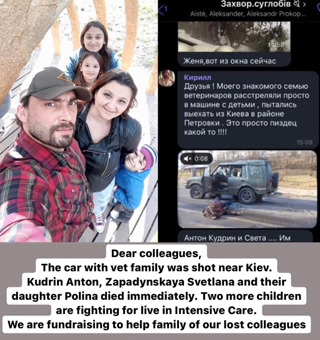 VIN News Service screenshot
Drs. Anton Kudrin and Svetlana Zapadynskaya were traveling by car with their three children Saturday near Kyiv when they had a fatal encounter with Russian military. Veterinarians in Ukraine posted a flyer on Facebook in a quest to collect donations to aid the couple's family.
Click here for a larger view
Animals, Klietsov said, have not been spared the violence. He's treated injuries from shrapnel and other wounds. "They arrive in shock and have a lot of clusters seizureswhich are difficult to stop," he wrote.
As for his own mental and physical health, Klietsov said sleep is elusive, merely "imitation." In addition to safety concerns, food and medication are becoming difficult to obtain. Russian forces are looting stores; the shelves are bare.
"There is no stock in stores, there are no medicines in pharmacies," he wrote. "But there is food for now, how long I don't know. The bridges have been blown up, and besides this, my city of Sumy is surrounded. Today, I wanted to buy a hemostatic [agent] for self-defense, but this is not there, either. I was able to buy only dressing in order to assemble first aid kits for the military."
Klietsov, head of the Union of Veterinary Business Owners, said the borders of neighboring countries are open to Ukrainians and their animals; most regulations for entry have been suspended. But he and his family can't leave because all viable exits are occupied by Russian forces. What's more, President Volodymyr Zelenskyy has declared martial law in response to the invasion and barred Ukrainian men ages 18 to 60 from leaving the country, urging them to instead join the military resistance.
It's a duty that Klietsov said he accepts.
"Nobody supports them; nobody will live under Russian occupation," he said. "We have been fighting with them for eight years, explaining that we don't want to be under their power. … We will live only in Ukraine and sure will win with the help of the world support."
Perspective from Kyiv
dr Elena Kostiuk, 34, practices veterinary cardiology and internal medicine in Kyiv. The fighting is so close that she is often jolted by the sound of explosions. Right now, she and roughly 20 of her colleagues are living at the practice, treating patients by day, some with gunshot wounds and in need of amputations, and sheltering beneath the hospital by night.
"In the basement of the clinic, I feel safe," she told VIN News on a video call today. "And when I'm working, I try not to worry."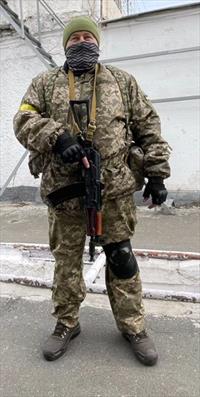 Photo courtesy of Dr. Yurii Danyleiko
dr Yurii Danyleiko, an orthopedic surgeon and owner of Aibolit Hospital of Veterinary Medicine in Odessa, has volunteered with Ukrainian forces.
Her parents, sister-in-law and niece have fled the city; her brother is aiding the Ukrainian Army and keeps in regular contact. Kostiuk has stayed in Kyiv out of a sense of duty to her patients and community.
"The first day, when everything started, it was 5:15 in the morning and I woke up to the loud sound … I realized it was rockets," she recalled. "It happened every 30 or 40 minutes. My mother called and said the war was starting. I realized, I can stay …. I feel that here, I will have something to do. I can help somebody."
Keeping busy, she said, has been good for her mental health. She tries not to think about the war. "I can only plan a few hours [in advance]," Kostiuk said. "I don't know what will happen tomorrow. I don't want to be under Russian rule, and I hope we will stay Ukraine. I want these bombs to stop and for someone to close the sky. I don't want more military."
Born and raised in Ukraine, Kostiuk said friends and colleagues in Russia have reached out in support, concerned for her safety. "They write me every day," she said. "Me and all my friends, when we talk about it, we know that this conflict is between Russian and Ukrainian governments, not the people. We never thought this war would start."
Elsewhere near Kyiv, Maxim Vodarchuk spoke with VIN News by email today from his family's apartment. The 18-year-old is a first-year veterinary student at the National University of Life and Environmental Sciences of Ukraine. He described the situation in the capital as "tense and difficult" but said the resolve of the Ukrainian people is evident.
"Our army is holding back the enemy's offensive and the enemy is gradually losing strength and weakening. I believe that victory will be ours," he said. "… There are many men and women in this city who will take up arms and beat the enemy from every window. I hope that we will win, and then all students will go to university without fear."
Residents of Kyiv, the nation's most populous city, have taken up arms or are in hiding. Just a week ago, they had been going about their lives, many attending school or work.
"People have lost their jobs and earnings and are forced to sit in bomb shelters and basements," Vodarchuk said. For the moment, his family has what they need, he said, but residents are running out of basics, including drinking water, cereals, canned food and tea.
"There is also a great need for drugs (antibiotics, daily drugs, bandages, syringes)," he said. "People in bomb shelters need blankets, mattresses, pillows, disposable tableware. Children are being born in the subway and bomb shelters, there is a need for diapers, napkins and other things."
Vodarchuk said he isn't afraid to fight in defense of his country: "On the positive side, many people are now joining the armed forces and territorial defense forces."
Veterinarians are among Ukraine's latest enlistees. dr Yurii Danyleiko, owner of a large practice in the seaside city of Odessa, provided a photo of himself in fatigues, having joined Ukrainian forces as a border guard.
Kliestov, the veterinarian in Sumy, said this war has made him proud to be a veterinarian.
"We have the best profession in the world … relevant during COVID, during war and in peacetime," he said. "Only work and volunteering help can stop this madness."
Maxim Vodarchuk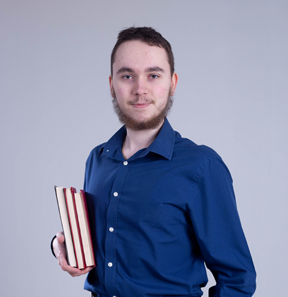 Photo courtesy of Maxim Vodarchuk
Maxim Vodarchuk, a first-year veterinary student at National University of Life and Environmental Sciences of Ukraine, hopes to resume his studies when the conflict ends.
When the war ends, Vodarchuk hopes to return to his studies. "With a degree in veterinary medicine, I plan to get [into] a profession that is valued by society and … which I will enjoy," he said. "We have the following motto written in a large lecture hall: 'Human medicine saves people and veterinary medicine saves humanity.' "
Support from outside

Like so many people, veterinarians around the world are glued to news reports, watching in horror as the conflict unfolds. One such practitioner is Dr. Andrei Tarassov, a clinic owner in Salt Lake City, Utah, who spent his youth in Ukraine before attending veterinary school in Russia and then making his way to the United States.
Speaking by phone on Monday, he said, "I have friends in both countries. I know there are a lot of veterinary businesses in Ukraine and Russia, and they all used to work together."
Some of Tarassov's colleagues have joined the Ukrainian Army. "It's their homeland; they have to protect it," he reasoned. "I would probably do the same."
Owners are struggling to find food for their pets and care, he said. "A lot of veterinarians are posting their phone numbers for pet owners to contact them if they have a sick pet and no veterinary clinic open nearby so they can advise over the phone," he said.
For his part, Tarassov's offered to house and employ colleagues fleeing the conflict, provided they have a visa to enter the United States. "I can take several veterinarians," he said.
The American Veterinary Medical Association is looking to help facilitate donations from members.
"We are currently working with our colleagues in Europe to determine the best way to get aid to Ukrainians through veterinary and animal health- and welfare-focused organizations," the AVMA said by email.
VIN News Service commentaries are opinion pieces presenting insights, personal experiences and/or perspectives on topical issues by members of the veterinary community. To submit a commentary for consideration, email news@vin.com.