Ad Blocker Detected
Our website is made possible by displaying online advertisements to our visitors. Please consider supporting us by disabling your ad blocker.
A WOMAN from Tipperary was convicted of four animal cruelty charges under the Animal Health and Welfare Act after a dog was "abandoned, scared and forgotten" in her care.
On December 9, the Nenagh District Court sentenced the woman to a total fine of € 400 plus payment of € 750 court costs and € 196.22 ISPCA costs.
Speaking about the case this week, ISPCA Animal Welfare Inspector Emma Carroll said, "I was extremely shocked and saddened to see the living conditions Penny was exposed to – abandoned, scared and forgotten."
Didn't notice the confiscated dog
Inspector Carroll first visited the property on November 13, 2019, where she spotted the matted and disheveled dog in the back yard filled with trash, feces and urine-soaked bedding.
Inspector Carroll left a note for the owner to contact urgently and sealed the property.
When they returned 24 hours later, the property remained sealed, so the dog was confiscated and taken for a veterinary examination.
The back garden where the dog was found (Image: ISPCA)
The young dog named Penny was badly matted and had saliva stains while antibiotics were being given to treat a cough.
The defendant turned to Inspector Carroll on November 18, claiming she was sick and neighbors should feed the dog, but admitted that no official agreement had been reached.
When asked why she hadn't responded to the tip by November 18, the woman said she didn't notice the dog's confiscation until Saturday, November 16.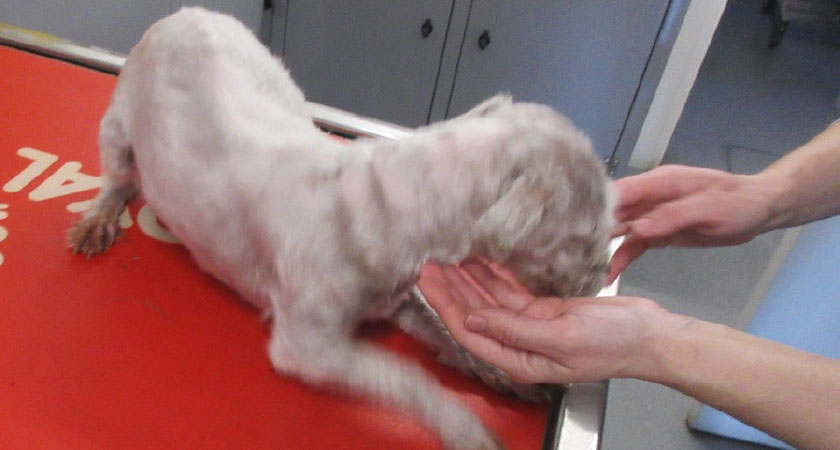 Penny received a much-needed groom after she was found severely matted (Image: ISPCA)
She also claimed that her estranged husband was responsible for keeping the garden clean before turning Penny into the care of the ISPCA.
Re-homed
"Fortunately, a kind-hearted animal lover alerted us to her plight so we can save her from further neglect and suffering," added ISPCA Inspector Carroll.
"Penny has since been responsibly relocated to a loving family where she now leads her best lap dog life and is loved and valued."
Animal welfare concerns can be reported by contacting the National Animal Cruelty Helpline on 0818 515 515 or by email [email protected]
One moment please…