Ad Blocker Detected
Our website is made possible by displaying online advertisements to our visitors. Please consider supporting us by disabling your ad blocker.
Metaverse, a convergence of virtual and physical space, is changing medicine.
Seoul National University's Bundang Hospital (SNUBH) built the Metaverse platform in a smart operating room.
The word metaverse is made up of the prefix "meta" for virtual and "universe" for the real world. It's a more advanced concept than the existing virtual reality (VR). The core technology of the Metaverse is Extended Reality (XR), which includes VR, Augmented Reality (AR) and Mixed Reality (MR).
On May 29, the Asian Society for Cardiovascular and Thoracic Surgery (ASCVTS) offered lung cancer surgery training at an online conference on a Metaverse platform. The operation took place in the smart operating room of the SNUBH and over 200 Asian thoracic surgeons received training in a virtual environment. All you needed was a head-mounted display (HMD).
Seoul National University Bundang Hospital's medical staff is offering lung cancer surgical training during an online conference in the smart operating room realized by the Metaverse. (Image credit: SNUBH)
Recently, the updated platform doesn't even need HMD. Surgeons can see the operating room through a laptop with a 360 degree camera.
Professor Jheon Sang-hoon from the Department of Thoracic and Cardiovascular Surgery at SNUBHl, who is President of ASCVTS, pushed for the installation of the intelligent operating room as President of SNUBH.
The intelligent operating room made it possible for ASCVTS to offer such training.
The hospital completed the smart operating room in 2019 to produce 4K or 3D videos and 8K VR videos with 360-degree cameras.
In the intelligent operating room, surgeons can perform image-guided surgeries (IGS) with near-infrared rays and displays that support both 4K and 3D surgical endoscopes at the same time.
They can also exchange opinions in real time via a "Tele-Pathology" system.
After the Singapore General Hospital experienced the "reality" of VR, which was implemented in the SNUBH's intelligent operating room through ASCVTS, the Singapore General Hospital decided to use the system to create a similar operating room.
In other words, SNUBH exported the smart operating room to Singapore.
The SNUBH plans to use the Metaverse in local medical education – not only for clinical training of medical students, but also for the surgical training of interns, interns and fellows. The SNU College of Medicine will offer metaverse clinical training as early as the second half of the year.
In an interview with Korea Biomedical Review, Jheon said the Metaverse is applicable to a variety of clinical settings and medical educations.
However, the country's outdated health insurance program is not catching up with the rapid changes in health technology that could hinder advances in clinical care, he said.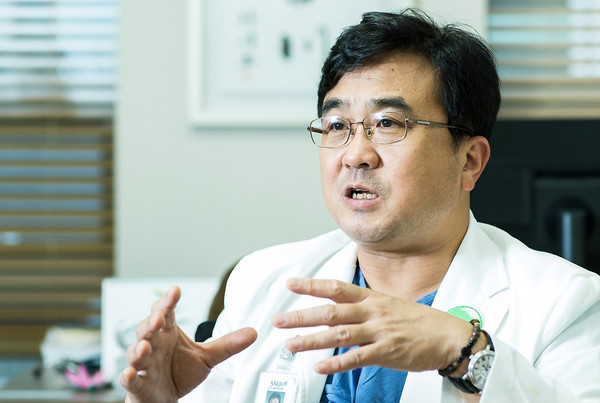 Professor Jheon Sang-hoon of the Department of Thoracic and Cardiovascular Surgery at SNUBH speaks during an interview with Korea Biomedical Review.
Question: In the ASCVTS online conference, you conducted a training course on lung cancer surgery in the VR implemented by Metaverse. The training was organized by the Automotive Technical Education Program (ATEP) that you set up.
Reply: I founded ATEP in 2011 to teach video-assisted thoracic surgery to Asian surgeons. We held workshops once or twice a year, mainly for people from developing countries. We rented training centers in Korea or Japan to offer two days of free surgical training in the beginning. Forty people in groups of two received surgical training with animals. However, this type of training costs a lot.
Q: Has the ATEP changed the training method from offline to online due to the Covid-19 pandemic?
A: After taking office as President of ASCVTS in 2019, I started ATEP surgical training in the lung area. We introduced VR into surgical training because offline surgical training costs a lot. Then the Covid-19 outbreak led us to offer timely VR training.
The trainees only needed HMD, so ATEP bought 40 HMD sets and sent them to Vietnam once. At the end of June we will give another training course in Moscow.
Technology has advanced compared to the early days. Surgeons can experience the 360 ​​degree VR through a laptop without an HMD.
Q: The surgery has been broadcast live for a long time. What is different about VR training that is implemented by the Metaverse?
A: It shows the surgical scene perfectly. Rather than unilaterally offering a scene, it can show you everything that's going on in the operating room when you put on HMD. Trainees can see what anesthetists and nurses are doing more precisely than in the operating theater. This is possible thanks to the XR technology and helps the trainees to concentrate better.
Q: Will the Metaverse be used to train specialists or interns?
A: Local residents don't have many options to operate these days. Thoracic surgery usually uses animal hearts or lungs to train specialists, but that's not easy either. That is why we offer virtual surgical training.
The technology is so advanced that it can even reproduce tactile sensations in virtual environments. We are conducting a pilot study to apply the Metaverse to practical clinical training for students at the SNU College of Medicine.
We plan to use it in clinical training in the second half of this year. As part of the agreement between the SNU College of Medicine and the National University of Singapore and between the SNUH and the Singapore General Hospital, the National University of Singapore will use the Metaverse in medical education. We also do VR for intensive care units where clinical training opportunities are scarce.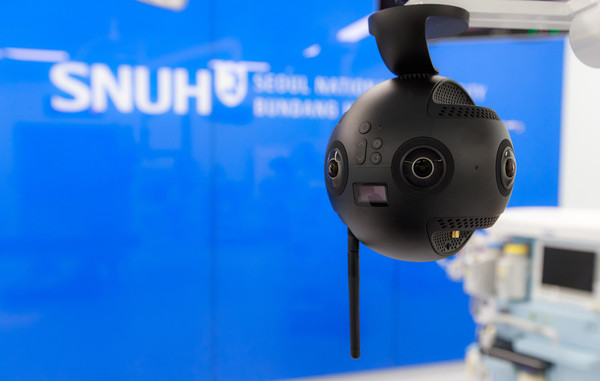 The intelligent operating room from SNUBH is equipped with displays that support surgical 4K and 3D endoscopes at the same time. (Image credit: SNUBH)
Q: What other areas of healthcare can you use the Metaverse in other than medical education?
A: There are many. For example, patients receiving chemotherapy may play with their cell phones or read magazines while receiving the injection. But their thoughts will be elsewhere because they are afraid. So we are preparing a study to create a virtual environment in which cancer patients can comfortably receive chemotherapy. During a study, clinicians will identify and solve problems while finding good technology.
Q: Some said that the medical community's opposition to telemedicine could hinder Korea's technological advancement. What do you think?
A: Delivering education in a virtual environment through VR or XR technology is one thing, telemedicine is another. But we have to introduce telemedicine. So we have to discuss sufficiently what advantages telemedicine could bring and what possible risks exist. We cannot contradict this in the long run.
The medical community and the government, as well as citizens, should strive to resolve the problems one by one. If you think doctors are rejecting telemedicine to protect their personal interests, there will be more misunderstandings. Times change.
Q: Are there any institutional areas that need improvement?
A: The government says it will relax regulations, but it is issuing a different regulation on it. When it comes to statutory health insurance, it's more frustrating. Instead of making a decision and announcing it first, the government should listen to what clinicians have to say. When the government says doctors oppose telemedicine "to protect the legitimate interests of the medical community," the harm will be done to the public. The same is true of the controversy surrounding the installation of mandatory CCTV surveillance cameras in operating theaters.
In Korea, medical care is considered a public good. So the government controls the reimbursement rates. When doctors make new technology available to patients, the state should guarantee it with the health insurance program. There should be a way to introduce new technologies into the existing system so that medical institutions can use them more actively. Otherwise, medical institutions would find it difficult to invest in the development of new technologies and their application in clinical care. National university hospitals can do this out of obligation, but not other private hospitals.