Ad Blocker Detected
Our website is made possible by displaying online advertisements to our visitors. Please consider supporting us by disabling your ad blocker.
WILMINGTON, NC — Pets are considered family members as much as humans — seeing them suffer is something no one wants to go through, and yet support systems for someone grieving the loss of a pet are rare.
What You Need To Know
Veterinary professionals have one of the highest suicide rates in the country
Losing a pet can be unexpected, traumatic and expensive
Veterinary social workers aid in the process by supporting both staff and clients
Charity Moorhouse is Wilmington's first social worker in veterinary medicine to graduate from UNCW, and she's currently interning at the city's only 24-hour veterinary emergency trauma center.
Charity Moorhouse shows some love to a patient in the hospital
"I actually didn't know veterinary social work was a thing until I was choosing an internship last summer – it's a new concept," Moorhous said. "It's not a revenue generating position, so it's not necessarily affordable for some general practices to have but it makes sense in a larger emergency animal hospital."
Emergency animal clinics never know what's going to come through their doors on any given day, which can be an overwhelming prospect for the staff. It's the equivalent of a hospital emergency room, but an ER there are no unlike social workers on hand to support staff and loved ones as they go through a stressful situation.
"Because it's an emergency setting most people aren't expecting to spend their day here," Moorhous said. "A lot of people aren't expecting the news, the possibility of having to say goodbye to their pet here."
Veterinary social work is in an extremely new field, although the problem has persisted for years. So new, in fact, that Moorhous said her professors at UNCW don't have a textbook or road map for her to follow as she navigates uncharted waters.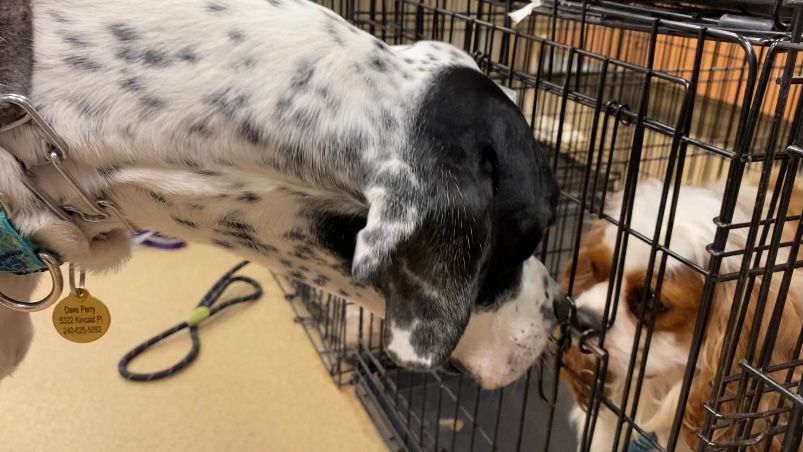 Two patients interact in the triage room at the hospital
"There's not much that can prepare you for this," Moorhouse said. "Not a lot of people, even the professors at school knew really how to prepare you for this. It's not something they teach in the classroom."
Prior to Moorhous joining the team at the animal clinic, the emotional support process fell to the veterinary professionals themselves. Her position allows the staff to make the animals their main priority.
"While they want to be there for them, and they want to offer that emotional support, they have a job that they have to do," Moorhous said. "I'm here for them too, if they're having a bad day, or going through their own crisis, I'm here for their support."
Her goal isn't ever to diminish the pain or minimize the weight of the loss, but to simply come alongside someone in their grief, so they know they don't have to go through it alone.
"Being OK with being a part of a day that's really difficult for them, and just trying to offer support and compassion in that time — that's the only thing I can do," Moorhous said. "I can't change the situation totally, but I can be a point of support for them."