Wednesday, May 25, 2022
The "Vaccines" SuperPower Pack, helps kids learn about how vaccines give people and their animals superpowers to fight germs.
West Lafayette, Indiana. The Purdue University College of Veterinary Medicine is getting high marks for two educational products for children: the "Vaccines" SuperPower Pack and the "Do You Have Diarrhea?" SuperPower Pack, created as part of the college's League of VetaHumanzTM (www.VetaHumanz.org).
Both kits have been honored with 2022 Academics' Choice Brain Toy Awards, a prestigious seal of educational quality, reserved only for those mind-building media and toys judged by a panel of scholarly reviewers to be the best. The independent Academics' Choice Awards program and its seal of excellence are recognized worldwide by consumers and educational institutions as a mark of effective learning tools that stimulate the mind and provide potential for the student to fully develop thinking skills.
The SuperPower Packs are developed and distributed at no cost to children through the League of VetaHumanzTM, which is a veterinary superhero league supported by the Science Education Partnership Award (SEPA) program of the National Institute of General Medical Sciences of the National Institutes of Health. In addition to SEPA grant support, follow-on sponsorships have enabled over 11,000 SuperPower Packs to be distributed at no cost to under-resourced US communities to provide access and support for children who aspire to careers in the veterinary medical profession. Purdue Veterinary Medicine partners with the Purdue College of Education's Evaluation and Learning Research Center for product development and assessment to optimize each SuperPower Pack's educational impact.
An Academics' Choice Awards reviewer of the "Do You Have Diarrhea?" SuperPower Pack stated, "It takes what can feel like a silly subject for kids, and creates an opportunity for children to learn about their bodies while having fun. Each child starts out with five cards and an instruction card. The game begins by one child asking another if they have a diarrhea card. As children take turns asking each other, they learn about what can cause diarrhea in both animals and humans, as well as how to avoid it. Check out this card game if you'd like your kids to have some laughs and an educational experience!"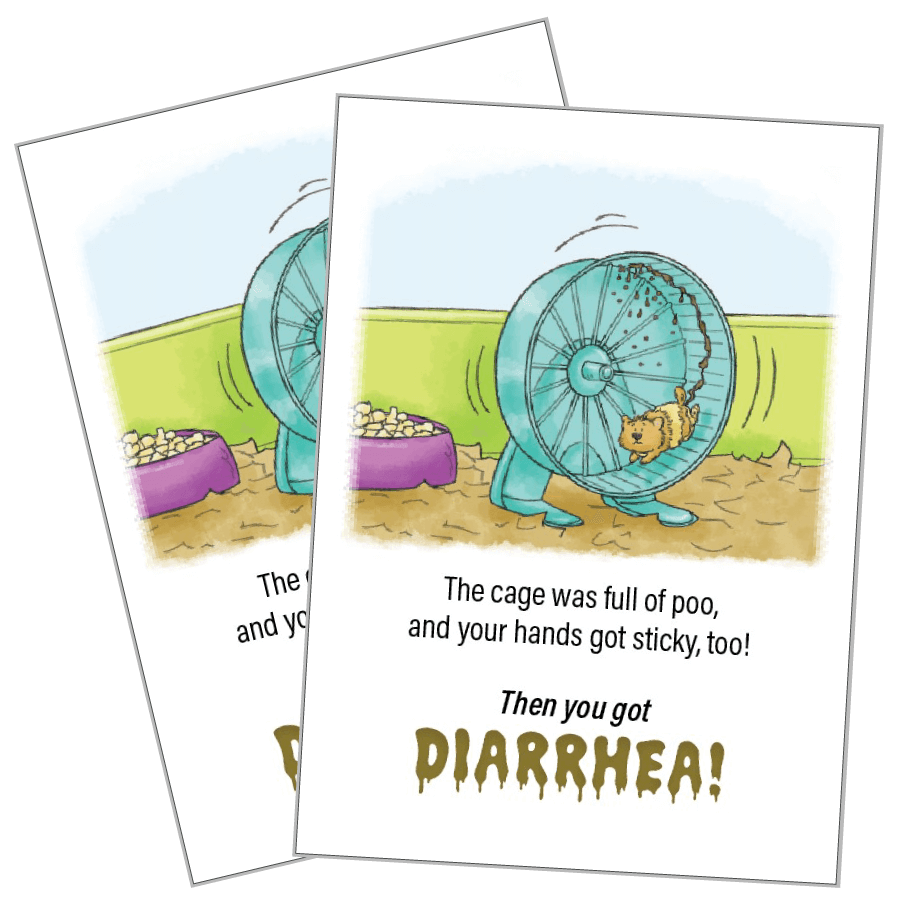 The "Do You Have Diarrhea?" SuperPower Pack includes a card game and other activities to help kids learn about causes of diarrhea in people and their animals and how to stay healthy.
A "Vaccines" SuperPower Pack reviewer commented, "Complete with a card game, mask, and book, the Vaccines SuperPower Pack has been an awesome way to teach my curious kids about what vaccines are in a way they'd understand. They were little when the pandemic began and couldn't quite comprehend everything a couple of years ago, but now that they're a little bit older, they have more questions. Not only do they understand themselves now how vaccines work in our bodies and the role of masks, but they are able to verbalize to their friends and each other about the subject too. Thank you, Purdue University!"
The Academics' Choice Advisory Board consists of leading thinkers and graduates from Princeton University, Harvard University, George Washington University, and other reputable educational institutions. Product-appropriate volunteer reviewers, combined with the brainpower of the board, determine the winners. Entries are judged by category (ie mobile app, toy, book, website, magazine, etc.), subject area, and grade level, and are evaluated based on standardized criteria rooted in constructivist learning theory. The full list of winners is posted online at www.AcademicsChoice.com.
The hundreds of submitted products that are not chosen by the Academics' Choice Awards team (and many that are chosen) are donated to a variety of worthy charities and other organizations across the globe.
About Academics' ChoiceTM
Academics' Choice™ helps consumers find exceptional brain-boosting material. Academics' Choice is the only international awards program designed to bring increased recognition to publishers, manufacturers, independent authors and developers who aim to stimulate cognitive development. A volunteer panel of product-appropriate judges, including parents, educators, scientists, artists, doctors, nurses, librarians, students and children, evaluate submissions based on educational benefits such as higher-order thinking skills, character building, creative play, durability and originality. Only the genuine "mind-builders" are recognized with the coveted Academics' Choice AwardTM.
About the Purdue University College of Veterinary Medicine
The Purdue University College of Veterinary Medicine seeks to advance global animal and human health and well-being through excellence in learning, discovery and engagement. Serving as a major referral center for the diagnosis and treatment of animal diseases, the college is a hub providing education and clinical experience for students. Faculty also research both animal and human health, with an emphasis on animal welfare science and the human-animal bond; infectious diseases and immunology; cancer; neuroscience; and musculoskeletal biology and orthopedics. The college is one of only a few nationally that educate all members of the veterinary team, with programs leading to the Doctor of Veterinary Medicine degree and bachelor's or associate degrees in veterinary nursing, as well as internships and residencies for specialty training, and graduate degree programs in basic medical sciences, comparative pathobiology, or veterinary clinical sciences. For more information visit www.vet.purdue.edu.
Writer(s):
Kevin Dorr | pvmnews@purdue.edu