Ad Blocker Detected
Our website is made possible by displaying online advertisements to our visitors. Please consider supporting us by disabling your ad blocker.
A dog was killed by anti-epidemic workers in Shangrao this week while its owner was being quarantined at a nearby hotel. Chinese internet users are outraged not only that the dog was killed in extreme efforts to contain Covid19, but also at the seemingly cold reaction from local authorities after it happened.
TThis weekend, a case in which a dog was killed by disease prevention workers in Shangrao City sparked outrage on Chinese social media.
The incident took place in Golden Phoenix Garden (金凤 花园 小区) Township, Xinzhou District, Shangrao, a medium-sized prefecture-level city in northeast Jiangxi Province. Due to a new confirmed Covid19 case, the community will be locked and its residents will be quarantined while apartments are being disinfected.
On November 12, a local community resident named Ms. Fu (傅) shared how her dog was believed to have been killed by anti-epidemic workers while she was quarantined at a local hotel that does not allow pets. She shared security footage taken from her home around 4:45 p.m. Friday showing two disease workers entering her home and then starting to hit her dog on the head with iron bars.
The story and video sparked anger online, and the official response to the incident just added fuel to the fire.
On Saturday, November 13th, the Xinzou District in Shangrao posted a statement through its official Weibo channel (@ 信 州 发布). The statement, released only at 11:37 p.m., stated that residents of the community should keep their doors open during the quarantine, but that particular resident's door was closed. Anti-epidemic workers then received police assistance upon entering the house to disinfect it and then discovered that the dog was at home. The communication states that the workers then treated the dog by "harmless disposal" (the literal words "无害 化 处理" could also be translated as "handling") [something] can be rendered harmless ").
The statement also stated that the worker has since been removed from his post and has apologized.
A very similar formulation is found in an article dealing with the controversy in the English language version of the Chinese state-owned media company Global Times, which describes the incident as an employee who "killed a dog during an anti-epidemic mission "And that the employees" dispose of a house dog harmlessly without fully communicating with the pet owner. "
Other reports in Chinese media about the incidents have been criticized by internet users for stressing anti-epidemic policies and the otherwise "humane" treatment of animals.
"Don't you think you're ridiculous? You have the nerve to cover it like that, "said one top comment.
Meanwhile, the incident has caught the attention of thousands of internet users with various hashtags, with one of them generating over 170 million views on Weibo and becoming one of the top trending topics on Sunday (#residents in Quarantine Kill #, # 上饶 正 investigation of the in Quarantined dog killed #, # 上饶 Responds to quarantined dog suspected of being killed #).

"The government of Shangrao makes me speechless," writes a Weibo user (@ 爱吃 火锅 的 邓 邓): "Not even a Covid19 confirmation was confirmed for this dog. Still, they just beat him to death. How can you be so cruel ?! "
In September of this year, three domestic cats that tested positive for Covid19 were euthanized in the Chinese city of Harbin. This incident also sparked a backlash on social media, viewed by some as excessive in local efforts to contain the virus. This case is still different, however, as the affected dog was allegedly killed before it was even tested for Covid19.
"You just 'dispose' the dog and that's it? Dog life is over! We don't even know how many dogs were killed this way, "others replied.
"Breaking down people's doors, killing people's pets, and then pressuring people to delete their posts on the subject, forcing them to settle down (..) – the Shangrao government is really standing up here on display, "one commenter said, referring to online rumors that Ms. Fu was pressured by the authorities to delete her social media post – she published that she was threatened herself.
The dog owner also claims that at least one other cat and dog were also "disposed of" by residents of the same community. At the time of writing, this claim has not been confirmed by official sources.
Meanwhile, a poster is circulating on social media showing a cat that says: "I cannot transmit Covid19, please do not leave or hurt me". The Shanghai Center for Disease Prevention and Control reportedly stated that small pets are unlikely to get Covid19 and therefore should not be screened.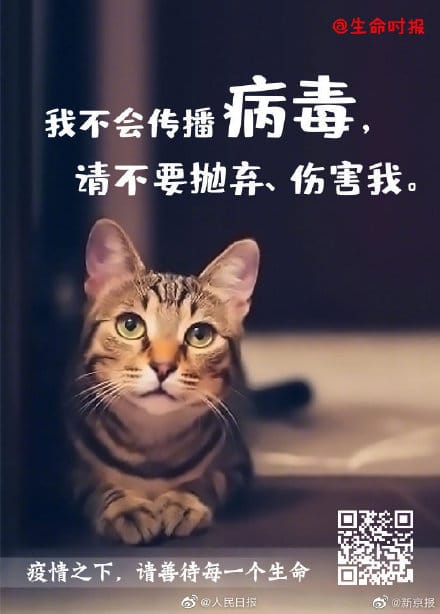 The terms "harmless disposal" (无害 化 处置) and "culling" (扑杀) used by some Chinese state media and local authorities in describing the Shangrao incident are also circulating online, with many people expressing disbelief in the seemingly cold and carefree way of portraying the unnecessary killing of pets.
The Global Times editor-in-chief Hu Xijin also wrote on the subject: "In my opinion, this was certainly not a successful indicator even from a crisis communication perspective. It is not surprising to see that it is causing controversy online. "
At the same time, Hu also urged people not to condemn China's zero-covid19 approach in this controversy, writing, "We cannot deny the hard work of grassroots pandemic prevention workers because of a specific case."
By Manya Koetse
Follow @whatsonweibo
Have you discovered an error or would you like to add something? Please let us know in the comments below or email us. First-time commenters, please be patient – we have to manually approve your comment before it appears.
© 2021 Wassonweibo. All rights reserved. Do not reproduce our content without permission – you can contact us at info@whatsonweibo.com.