Ad Blocker Detected
Our website is made possible by displaying online advertisements to our visitors. Please consider supporting us by disabling your ad blocker.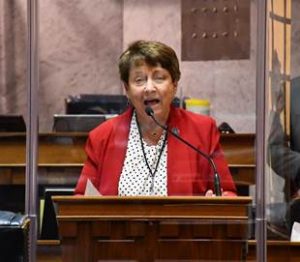 State Senator Jean Leising (R-Oldenburg)
STATEHOUSE — A bill authored by State Sen. Jean Leising (R-Oldenburg) that would improve veterinarian services passed the Indiana Senate unanimously.
Senate Bill 177 would provide that the state veterinarian serves as the chief administrative officer of the Indiana Board of Veterinary Medicine, performs the duties delegated by the board, and provides advice and assistance to the board.
This bill would also establish the Indiana Center for Animal Policy and would make the state veterinarian the chief administrative officer of this center.
"This bill would have a large positive impact on veterinary medicine," Leising said. "I look forward to shepherding this bill through the legislative process and seeing all of the good it can do for Indiana, especially rural communities."
SB 177 will now move to the Indiana House of Representatives for further consideration.
To learn more about this bill or to watch the Senate in session, visit iga.in.gov.