Ad Blocker Detected
Our website is made possible by displaying online advertisements to our visitors. Please consider supporting us by disabling your ad blocker.
They are considered man's best friend and occupy a large place in our hearts and sometimes on our sofa: we are talking of course about animals, specifically pets. Since the beginning of time, humans have lived together with animals and this continues to this day. The most popular types of animals are dogs, cats, fish and birds, and the number of animals in a household of 2016 compared to 2020 has increased significantly. While there were 76.8 million dogs and 58.4 million cats adopted around the globe in 2016, this figure rose to 83.7 million dogs and 60 million cats just four years later. This increase can be attributed in no small part to the Corona Pandemic that began at that time and the associated worldwide lockdowns, as home office arrangements allowed workers in particular to spend more time with a pet. However, not only have the numbers of pets increased, but additive manufacturing has also enabled the creation of all the treatments and applications necessary for veterinary medicine for our animal friends.
It is no secret that additive manufacturing has been shown to have benefits in a number of sectors, including veterinary medicine. Considering that veterinary medicine is a large and growing part of the economy, it is easy to see why additive manufacturing is being used there. In the United States of America alone, more than around 120,000 veterinarians are currently practicing their profession to help animals with various medical conditions and conditions. It is little wonder, then, that as the number of pets increases, so does the value of the industry as a whole. According to a report from Grand View Research, Inc., the global market for veterinary activities is expected to reach $114.4 billion by 2028. Now, however, there are not only veterinarians who are looking after the well-being of our animals with the use of 3D printing, but commercial companies are also diligently developing new applications so that they too are able to help animals. But what are the limitations and possibilities of 3D printing in this area and what is the typical process and implementation?
The Use of Additive Manufacturing by Veterinarians
No pet owner is pleased when to take their animal friend to the nearest veterinary practice. In addition to nasty health surprises, however, there are often other horror stories, such as enormous costs, long waiting times for prostheses or orthoses (among other necessary treatments) or simply the fact that it is not possible to individualize veterinary products for one's own animal. Thankfully, with 3D printing many of these issues can be addressed. Furthermore, innovations in material developments have enabled the development of even more materials meeting various needs in the sector. Thus, the materials enable many benefits such as reduced costs, shortened waiting times and also a high degree of customization. However, innovative approaches can also shape and simplify the individual steps an animal patient goes through when visiting a veterinarian who uses additive manufacturing. As a rule, materials such as PEEK, PEKK and, for surgical activities, dental plastics such as nylon, PLA and PVA, for example, find their application among AM-using veterinarians.
Concrete Applications in Veterinary Medicine
To go more in depth on how additive manufacturing is being used in veterinary medicine, it is first necessary to understand the traditional methods. For example, many of the conventional methods used by veterinarians for treatment are similar to those used in human medicine, sometimes down to the smallest detail. That being said, despite partially identical DNA and also other physical characteristics, we must remember that some treatment options are simply not possible. Often the first step before an operation or a prosthesis can be made is the scan. Since some animals do not fit into a standard veterinary CT scanner due to their conditions and other issues (notably related to being able to lie still), the first challenges already occur here and is where we can see the benefits of turning to 3D technologies.
Sedation – i.e. the administration of tranquilizers to calm the functions of the central nervous system – could be used, but this is also associated with high costs and time expenditure. With 3D scanning, not only can the scanning be carried out quickly, which in turn does not require sedation, but it can also be performed with a high degree of precision. Due to the fact that this is a portable device, it is possible to scan any kind of animal without any problems, unlike conventional CT scanning machines – at the latest with dangerous animals such as an alligator or animals living in water, classical CT scans would have already failed.
What is possible through 3D scanning is shown by the probably perfect example of Mister Stubbs the alligator. Found in a semi-truck in 2013, the alligator was missing its tail. Though this might seem trivial, in fact an alligator's tail is not only used for movement and steering in the water, but fats are also stored in the root of it, contributing significantly to the animal's health. In order to help Mister Stubbs, Midwestern University in Glendale, Arizona, used an Artec 3D scanner to scan the tail of a recently deceased alligator. Although adaptations had to be made to the exact size for Mister Stubbs, 3D scanning was able to capture all the details of the tail, helping the team to create a new tail for Mister Stubbs.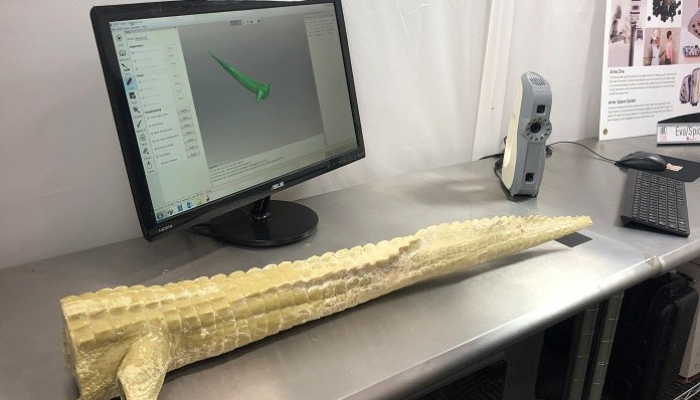 Applications Can Be Individualized Thanks to AM
Veterinarians and animal hospitals can achieve a wide range of active benefits with the use of additive manufacturing when it comes to treating animals. To name a few, it can be used for the production of prosthetics, orthotics, implants, dental parts or even custom models suitable for pre-surgical purposes. The benefits are clear, considering that due to different biological conditions and needs of different animal species, the amount of factors to be considered increases immeasurably. The anatomy of an animal species such as a dog, for example, differs enormously from breed to breed: if you compare a full-grown Newfoundland with a dachshund, it is more than obvious that the individualization of treatment is more than necessary.
3D-printed orthoses and prostheses, which last up to five years in 3D printed form before they need to be replaced, are finding particularly high use within veterinary medicine. The splints, which are attached to the body, serve as an orthopedic aid so that joints, bones or even muscles can either be relieved, stabilized or set right. One notable example is a 3D printed prosthetic that was made for a three-month-old cat born with a rare congenital deformity of the chest wall.
Doctor of Veterinary Medicine Matteo Zanfabro turned to 3D printing to help resolve this sometimes fatal deformity of the cat. The splint, which was made of PETG and 3D-printed with the Ultimaker S3, could not only be individually adapted to the size and deformity of the kitten, but also the growth of the animal could be taken into account in the process. To provide the necessary stabilization, the splint was closed with surgical wires, as well as fitted with padding. And 3D printing paid off here: after the additively manufactured splint was applied, the young cat suffered no further movement intolerances.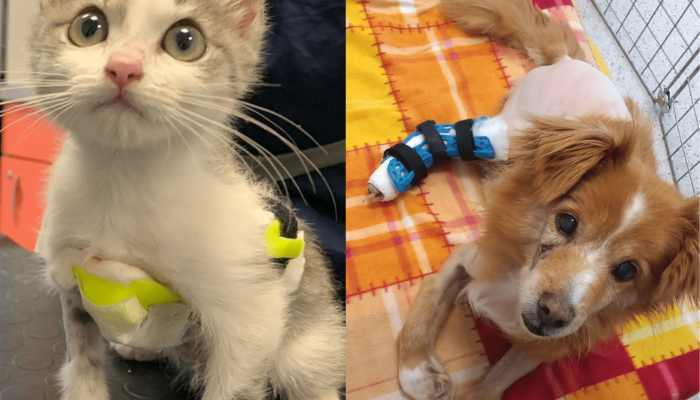 But that is not all. In the course of their work, a team of researchers from the Slovak University of Technology in Košice have been addressing the question of the benefits of additive manufacturing in the field of veterinary orthodontics. Using the example of a 15-month-old Labrador dog that lost a tooth important for food intake while playing, they demonstrated what was possible using additive manufacturing. Since this tooth would not grow back, but was also crucial to preventing malnutrition, a personalized solution was needed. The same tooth that still existed in the young dog's jaw was scanned so that this scan could then be manufactured as an implant using metal 3D printing. One reason why AM was chosen in this case was that, on the one hand, an exact scan could be made and, on the other hand, the printing had to be very precise, as the newly made tooth had to be perfectly integrated into the existing tooth gap. After a regeneration phase, the Labrador's additively manufactured tooth was even harder and more durable than his natural teeth.
Considering dental problems in animals, veterinarian Dr. Johnny Uday, who started implementing AM 5 years ago, provides insight into other potential challenges: "Dental problems are so common and destroy the jaws of many pets, resulting in fractures with bone lysis (large holes). However, due to the varied sizes of dogs, "standard" plates can be too large or bulky and cause more damage than they help. So a good application for this technology is to develop personalized plates so you can have a perfect fit and size, and even plan the drill holes to avoid damaging tooth roots, vascular bundles, nerves, the lymphatic system and other important structures that are essential for normal function and proper healing."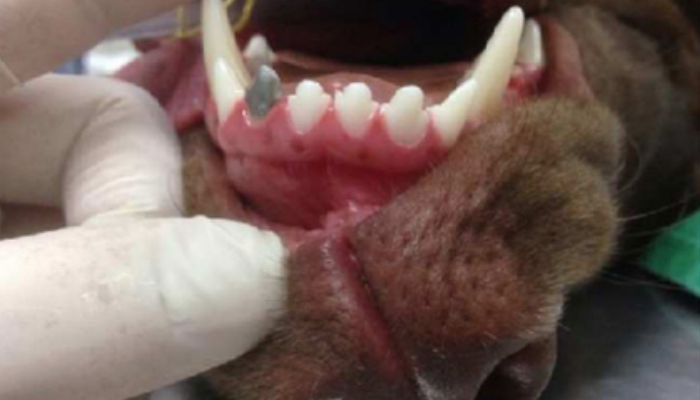 Furthermore, additive manufacturing within veterinary medicine is well-suited for the creation of surgical and anatomical models. Here, surgical models especially help veterinarians to achieve better surgical results, which at the same time can significantly reduce surgical time. Specifically, these are 3D-printed templates that contain exact cutting planes and holes of the respective animal patient, allowing surgeons to practice on these templates in advance. This is suitable not only for difficult and little-known operations, but also for orthopedic injuries such as cruciate ligament tears or even congenital limb problems. The anatomical models, which can be differentiated into acupuncture, organ, skeletal or even exercise models, also offer great help to veterinarians. However, these three-dimensional models are not only an advantage for veterinarians, but also for students and prospective veterinarians and accordingly serves for learning and research purposes.
When additive manufacturing is applied in veterinary medicine, it mostly benefits dogs, cats, but also chickens or cows. Meanwhile, this is more complicated with small animals such as chihuahuas, frogs or hamsters. The reason for this is the tiny anatomy they have, which makes the creation of incision guides as well as implants considerably more challenging than with large animals, Dr. Johnny Uday explains to us. However, probably the biggest challenge when it comes to implementing AM into the workflow is learning the subject matter itself. Dr. Johnny Uday notes the importance of having various software, as well as the biomaterials available for 3D printing in particular.
Companies are Using Additive Manufacturing to Help Animals
While there are already a number of veterinarians taking advantage of additive manufacturing, companies have also found great potential in this area. Thus, the list of companies using AM in the veterinary sector is growing: Think3DDD, PlayVet, CABIOMEDE, DiveDesign or even Formlabs and Artec3D, to name just a few. The main difference that exists between the activities of veterinarians and companies regarding AM in this case is primarily the educational background. While individuals working at these companies primarily hold engineering degrees, whereas veterinarians of course hold degrees in veterinary medicine. In addition, the backgrounds of these differ: while companies manufacture and sell these products and have thus developed a market for themselves to offer their service and product performance. In contrast, veterinarians draw on AM to work more efficiently, to improve their workflow as well as to use AM as part of a whole. However, despite the different educational path, the goals are the same: to save or simplify animals' lives with additive manufacturing.
Berlin-based Think3DDD, founded by Tino Jacobi, explains that the collaboration is a close one due to the high level of customization: "That's why we cooperate very closely with the treating veterinarians. So we manufacture a suitable orthosis or prosthesis with information from the vets and the vet accompanies the treatment." Nevertheless, according to Alexander Then, owner of NordicVet3D, there are still a large number of veterinarians who distance themselves from the use of additive manufacturing. "I can't see any reason other than economic why they shouldn't be used," he explains, elaborating on the advantages in doing so, "For example, we can check whether the screws and plates we want to use are the most suitable in each individual case. This minimizes the risk of failure or the need for reoperation, which is associated with increased mortality and morbidity. It's also been shown to reduce surgical time and therefore the actual cost of the procedure."
As far as the process, the technologies and the materials used in the process are concerned, the first step is 3D scanning, which can even be done with a smartphone thanks to scanning apps. Once the scan has been carried out – either at the company's premises or at the vet's – software is used to develop the digital image of, for example, a prosthesis or orthosis. This can, after 3D printing and post-processing, be worn directly. When using FDM/FFF technology, "many types of thermoplastic polyurethane plastics (TPU) with different thicknesses, polypropylene (PP), polytene terephthalate (PET) and others" can be used, further explains Alexander Then.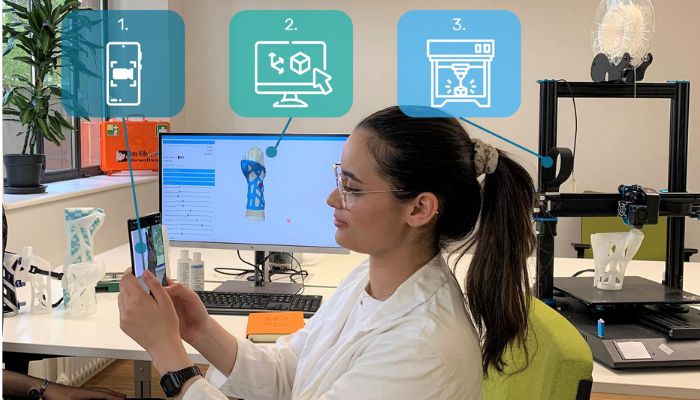 Limitations of Additive Manufacturing in Veterinary Medicine
While the benefits from the use of additive manufacturing in veterinary medicine far outweigh the problems and challenges, there are still limitations in this field of application. Even though the range of implantable materials for animals is already extremely wide, the choice of biocompatible materials that can be sterilized at the same time remains enormously limited in comparison. Furthermore, the formation of biofilm in additively manufactured implants is one of the main problems. Such a biofilm, which is a kind of association of bacteria, is particularly resistant and difficult to remove. Since such a biofilm can now also form on 3D-printed implants, Dr. Uday sees a particularly great challenge here.
Turning to other challenges of AM in the field of veterinary medicine, Matteo Zanfabro of PlayVet points out that veterinary work with so many different materials is always a challenge in itself. It is important to remember that, depending on the application, the material must contain properties ranging from very hard plastic to chewable materials. Especially since it is always necessary to find the best possible compromise between quality and production time. Matteo Zanfabro also cites the fact that "the manufacturer's specifications for 3D printing do not match the actual result" as an issue, because that's why they are required to "try, test and verify every material and every manufacturer to be sure that the material is suitable for our product and our process." This process can be not only time-consuming, but also costly, with this type of quality testing taking up to several weeks.
So what can we conclude about the use of additive manufacturing in the field of veterinary medicine? Thanks to additive manufacturing, many animal lives have already been saved and the list goes on and on! While there are easier and more difficult cases to solve for both companies and veterinarians, any challenges also present new opportunities for the use of AM within veterinary medicine.
What do you think about the use of additive manufacturing in veterinary medicine? Let us know in a comment below or on our Linkedin, Facebook, and Twitter pages! Don't forget to sign up for our free weekly Newsletter here, the latest 3D printing news straight to your inbox! You can also find all our videos on our YouTube channel.