Ad Blocker Detected
Our website is made possible by displaying online advertisements to our visitors. Please consider supporting us by disabling your ad blocker.
The video shows the emotional reunion of a family when Sussex police in England delivered the dog that was taken from the front yard of their house in 2013.
Along with Cassie the cocker spaniel came three puppies that were believed to be her own.
"It's a priceless Christmas present for us as a family and we want it to give hope to others whose dog has been lost or stolen. Finally, we'd like to thank the police and everyone who helped us keep Cassie and her puppies." back to us, "the family was quoted as saying in a police statement on January 6th.
Sussex police posted a video online showing Cassie being reunited with her owners, whose names have not been reported.
The police, together with the Royal Society for the Prevention of Cruelty to Animals and Trading Standards, a consumer protection division, carried out a series of raids in November to look for a stolen dog following a tip from a citizen.
Cassie was brought back to her owners with three pups, all of which were given to loving homes, Cassie's owners said.
Sussex / Zenger Police
"Cassie was found safely with some puppies believed to be hers," Sussex police said.
A family spokesman said: "We are so grateful to have our Cassie home after eight years of being separated from her. Cassie has settled in very well and enjoys her daily dog ​​walks.
"The three puppies have all gone to a good home and love their new family life."
Oliver Fisher, inspector for the Sussex Police Department's rural crime team, said: "As is often the case, it was useful information from the public that helped us and, as always, we are grateful to them for coming forward.
"Dogs can occasionally go missing, but it is extremely rare for dogs to be stolen. I want to assure the many thousands of dog owners in the county that if you take simple precautionary measures, you will not have to fear this crime.
"I would like to encourage all dog owners to microchip their dogs, keep an up-to-date photo of the dog and, in the event of loss, notify the microchip company and provide a photo to the police.
"We know the impact a stolen pet can have on a family. Because of this, part of the team's job is to investigate stolen dogs. In the past few months we have recovered stolen dogs and also supported the Royal Society for the Prevention of Cruelty to Animals "in the confiscation of puppies that are kept in puppy farms under appalling conditions."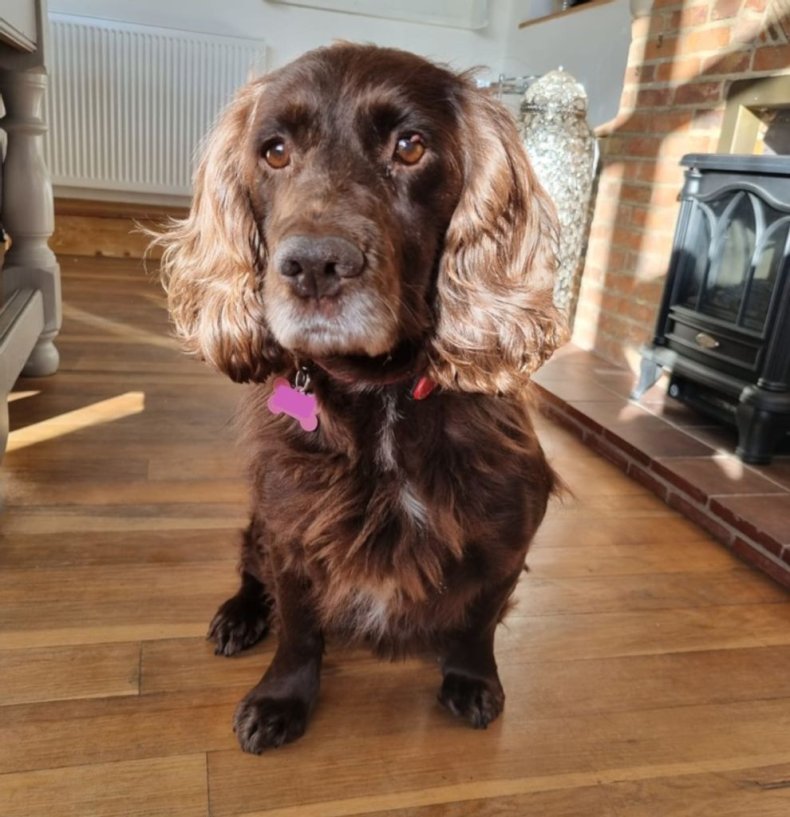 The cocker spaniel Cassie was recently reunited with her family eight years after she was removed from the garden of the family home.
Sussex / Zenger Police
Fisher said that the inflated puppy prices caused by the pandemic "have led to unscrupulous individuals who breed and mothers-to-be for profit only. Does the mother look healthy, are the conditions acceptable?
"Future buyers who turn a blind eye to irresponsible breeders not only perpetuate the suffering of the animals, but risk buying a puppy with significant health problems that can be expensive and sometimes fatal to treat."
A spokesman for the Royal Society for the Prevention of Cruelty to Animals said: "We helped police officers execute warrants for information about a stolen dog, and we were delighted to recover Cassie and three pups and return them to their owners, who were absolutely delighted to have her home for so many years.
"The demand for pets has increased in recent years, especially during lockdown, and so it appears that pet theft is widespread.
"If you think your pet has been stolen, please call the police as soon as possible."
This story was made available to Newsweek by Zenger News.