Ad Blocker Detected
Our website is made possible by displaying online advertisements to our visitors. Please consider supporting us by disabling your ad blocker.
After Harvey missed the cat for the past 1½ years, she was reunited Tuesday with Leesa Unger of the Franklin County Humane Society. (Photo submitted)
"One look and I knew it was him."
This went through Leesa Unger's mind after seeing a photo of a long-haired cat named "Abe" on the Franklin County Humane Society's social media page. "Abe" looked strikingly like Harvey, a family pet that went missing in August 2019.
"After sharing pictures, we confirmed he was her long-lost cat and just reunited her," Humane Society animal shelter manager Kerry Lowary told The State Journal.
Last weekend, the shelter captured Harvey from a rescue in Shelbyville and posted a photo of him on their Facebook page. Unger's mother saw the mail and texted her on Monday evening.
"The fact that Harvey made it back to Frankfurt is just sheer luck," added Unger. "If he hadn't made it back to the Franklin County Humane Society, we might never have seen him again."
When Leesa and her husband Daniel Johnson got Harvey through an ad on Craigslist in 2010, the cat was already grown, scratched and neutered.
"I picked it up from a lady at a gas station," she said. "She said he was shy and stayed under her bed."
But with the family, Harvey was just the opposite – perky, playful, and the center of attention.
Before he went missing more than 1½ years ago, Harvey usually roamed outside during the day – never far from her Frankfurt house in the city center.
"He loved being with us and I was surprised when he didn't make it one night," she said, adding that he is a loud, vocal cat and when he didn't come she knew that something was wrong.
But Unger never stopped thinking about Harvey, and it bothered her that he just disappeared.
"I happened to wake up in the middle of the night thinking of him a lot. I often thought I heard his meow," she noted.
She browsed photos of shelter cats online, believing he was still alive.
"A cat like Harvey doesn't give up. He is tough and fiery. "
How he found his way to Shelbyville is an answer the family will likely never know, and that question is going to drive Unger crazy.
"It's so wild," she said. "He's been gone a year and a half and as soon as I picked him up he purred and pretended no time had passed."
Lowary confirmed that humane society had microchipped Harvey in case he should travel again. It's a procedure Unger recommends everyone do for their pets.
Harvey received a relatively clean health certificate from a local veterinarian on Wednesday and appears to be relatively healthy for a cat his age.
"He came home without teeth, had fleas and was a little dirty, but he's fine," said Unger.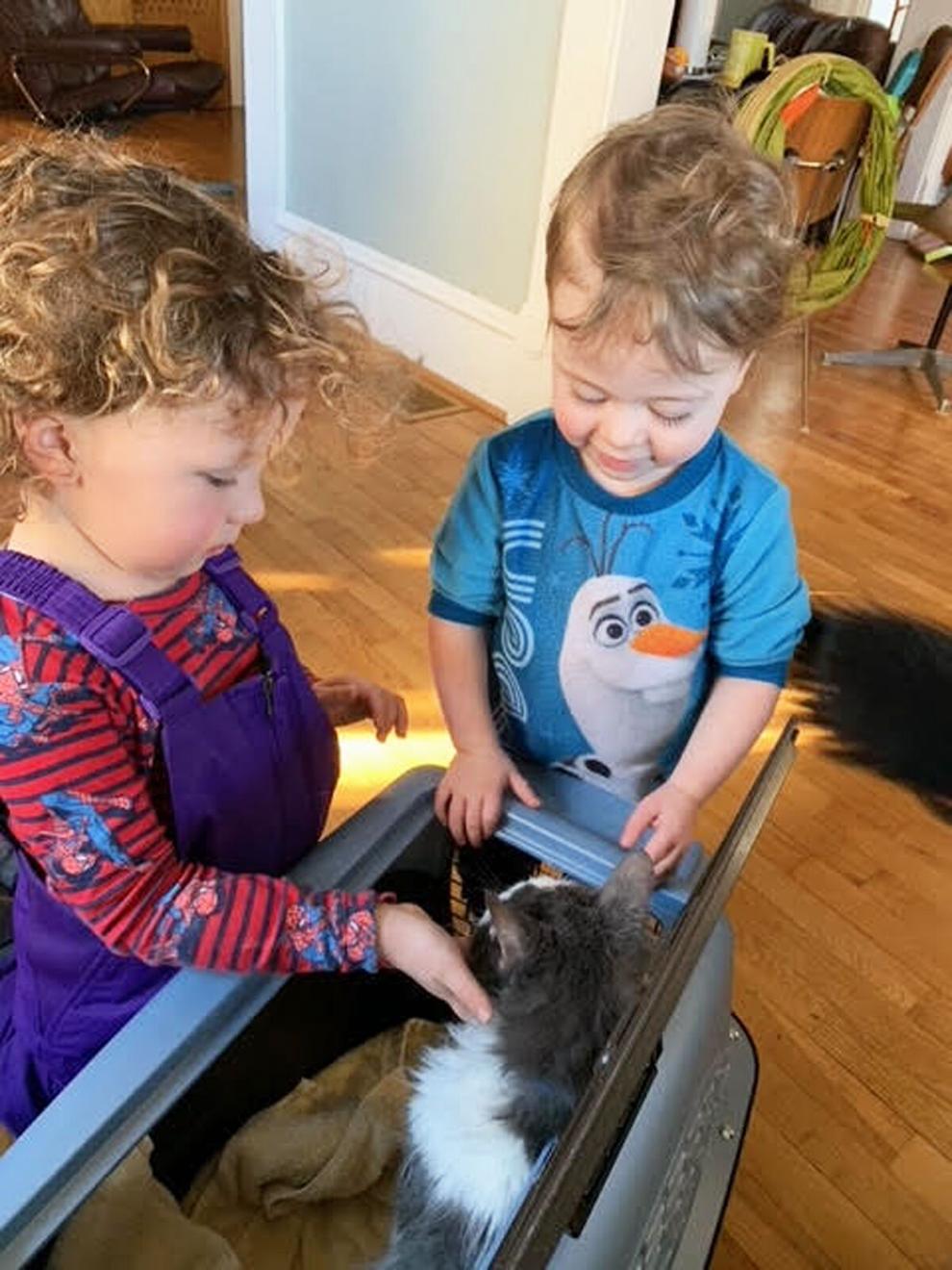 Sam Johnson (left) and Ruby Johnson were reunited with Harvey on Tuesday. The cat went missing more than a year ago and showed up at a Shelbyville rescue home before being taken to the Franklin County Humane Society over the weekend. (Photo submitted)
In the meantime, Harvey gets to know his roommates again – the family's two small children, Sam and Ruby, and two rescue pups, Leroy Jenkins, a mix of German shepherds and Ernie Gruntfeld, a mix of Australian shepherds.
"When Harvey went missing, our daughter Ruby was only three months old and our son Sam was almost two years old," noted Unger, adding that the kids are thrilled to have a cat in the house.
"Harvey is probably wondering where all these extra little people come from!"
Unger attributed the reunification of the family with their long-lost pet to humane society and encouraged locals to donate to the new animal shelter fund at https://www.fchsanimals.org/donate.html