Friday 23 July 2021
Amid the ongoing pandemic, Purdue University College of Veterinary Medicine successfully hosted its summer program called "Vet Up! College "this year for undergraduate students who are serious about attending veterinary school. The six-week summer program culminated in a virtual graduation ceremony on June 25th.
Purdue Veterinary Medicine's Assistant Dean for Inclusive Excellence, Dr. Latonia Craig, the ceremony began by stating that Vet Up! The college was designed to address two critical health disparities: a shortage of veterinarians in public health and farm or livestock practices nationally and in the state of Indiana, and a significant shortage of underrepresented people entering the veterinary profession. The aim of the program is to fill areas of veterinary shortage with equal persons from under-represented population groups and rural areas.
"Today we're celebrating 26 graduates from across the nation who have participated," said Dr. Craig. She found that the students represented more than a dozen states, from Indiana to Arkansas, Florida, Massachusetts, Texas and Hawaii, and Washington DC and Puerto Rico.
This year's program included some creative adjustments to the first Vet Up! College program conducted as a summer residential experience at Purdue University in 2019. "We had to cancel the program last year due to COVID 19, but that gave us more time to think about more innovative ways to deliver the program without compromising rigor and quality," said Dr. Craig. "Our main concern was that if we did the program virtually, we might give students the opportunity to work in the shade and get hands-on animal experience?"
Melanie Figueroa Cordero, one of the 26 graduates of the Vet Up! College Class of 2021, was honored together with her graduate Kyra Holt as recipient of the Academic Excellence Award during the virtual graduation ceremony.
The answer to those concerns came from Purdue alumni and one of the program sponsors, National Veterinary Associates (NVA). "With the help of the NVA and some Purdue alumni, we were able to place all 26 participants in a clinical location in their residential areas, even in Hawaii and Puerto Rico," said Dr. Craig is enthusiastic about it. "I am amazed at the experiences our students have had in their clinical environment."
NVA Director of Community Development Chris Janak attended the virtual ceremony and praised the students in the Vet Up! College class of 2021. "Review graduates – I want you to know the impact you have had on the clinics and hospitals and resorts that you have been to," Janak said. Then he read comments about the graduates received by the clinical centers. "An absolute pleasure." "Talent and so clever." "Incredibly curious." "Bright and a wonderfully positive attitude." One of the clinical sites even commented, "… we're so excited that they have expressed an interest in joining our team." Another described the student they hosted as "the future of veterinary medicine."
Janak continued, "In my experience, people in animal care don't just compliment them to be nice. They give it when they really mean it. So take in the feedback I just shared because you wouldn't get it if it wasn't true. You are all of these things and more. They are the future of veterinary medicine. We are grateful and humble that we can be a small part of your journey. "
Dr. Craig also recognized her staff at the Office of Diversity, Equity and Inclusion for their hard work getting the program off the ground, as well as all of the faculty who devoted their time to teaching during the months of May and June. She also paid tribute to Dr. Sandra San Miguel, Assistant Dean of the College of Commitment, for her initial help and guidance in pursuing the Health Careers Opportunity Program (HCOP) scholarship from the US Department of Health and Human Services' Health Resources and Services Administration, which started the program have made possible. Additional program support is provided by Zoetis.
Dr. Craig also praised the Purdue veterinary students who served as teaching assistants in the program: May Brooks, Akila Bryant, Keishla Marrero Acosta, and Daniela Sanchez. And she thanked Dean Willie Reed for his unwavering support to the program and the Office of Diversity, Equity and Inclusion.
But dr. Craig paid tribute to the graduates: "We kept our students very busy during the program, almost every minute, every second was considered … The students gained a total of 2,007 clinical lessons in two weeks and over 150 hours of curriculum and exam hours in four weeks cover topics such as anatomy, emergency and intensive care medicine, parasitology, physiology, histopathology, bacteriology, cell and tissue biology, behavior and more. "In addition, the students completed the Certificate for Diversity and Inclusion in Veterinary Medicine and Mental Health First Aid Certificate Training, participated in four weekly problem-based learning cases, and even participated in a personalized virtual tour of the Houston Zoo with live Q&A.
Dr. Craig then invited one of the graduates to share their thoughts. Giormarie Rodriguez Vélez is a participant from Puerto Rico and described the day she received her admission to the program for her fellow students. "There I was, just like all of you. A girl from Puerto Rico who is passionate about animal welfare and who is given the chance of a lifetime – one that would change my view of veterinary medicine, "said Giormarie.
She then shared how her initial uncertainty as a participant gave way to excitement when she realized that she was not only given the opportunity to participate, but also listened to with attention and interest. "No question was seen as silly or unimportant because faculty members sincerely appreciated our interest, answered our questions, and most importantly, always asked," Is it clear now or would you like me to explain it differently? "
Giormarie continued: "With every interaction I understood that this is inclusivity. I understood that this is what it feels like to be valued despite one's limitations or background. "She also said she appreciated the integration she felt among students who, instead of being competitive, tried to reward each other in their study help. "It created an environment where empathy and encouragement prevailed. There is room for all of us to shine. "
Giormarie went on to explain how her clinical experience reinforced these feelings. "To my surprise, I was greeted with so much enthusiasm that they made me feel like the lucky ones who have me instead of me to learn from them." what it really means to take off the smock of your toy and put on a real one. "
In closing, she thanked Purdue University for this opportunity that changed the way they view veterinary medicine. "Thank you on behalf of all of us for not only providing us academically, but also for enabling us to live diversity, inclusion and cultural competence. Most importantly, you are an active example of all of these qualities. "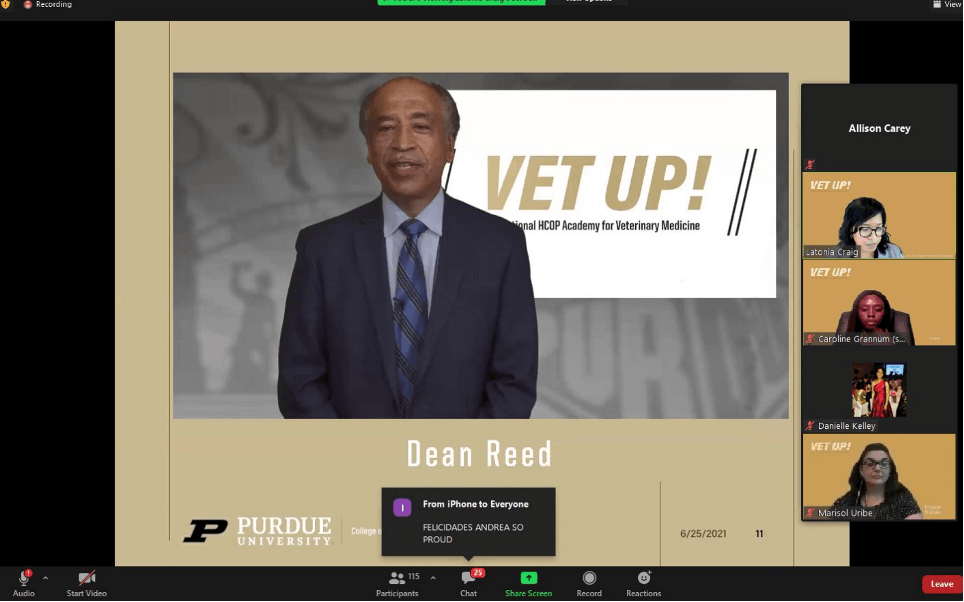 Dean Willie Reed congratulated the Vet Up! University graduates via video.
Then Dr. Craig several participants with special prizes. Congratulations to the recipients of these awards:
Model before veterinary medicine – recognizes a student who participated actively, demonstrated discipline and demonstrated a can-do attitude in the Vet Up! University program: Giormarie Rodriguez Vélez
Academic excellence – recognizes the top two students who were able to represent the core values ​​of the Vet Up College program, passing their exams with a clear Ace while maintaining a positive attitude and high standards in their efforts to improve their skills in the Veterinary medicine reached: Melanie Figueroa Cordero and Kyra Holt
Award with the highest level of commitment – honors a student for being in the Vet Up! College program. This award was given to the student who had to get up at 3:00 a.m. every day because she was participating from Hawaii: Tyler Bright
Another component of the program concerned a Capstone project. The participants were divided into seven groups of three to take part in a research project. Each group had to develop a topic and title of their choice, conduct a literature review, prepare an introduction, and complete a presentation in the form of either a PowerPoint presentation or an actual abstract or research poster. We congratulate the winning group around Caroline Grannum, Paola Figueroa Pratts and Bryson Satterwhite on their project on the dairy industry and its impact on climate change.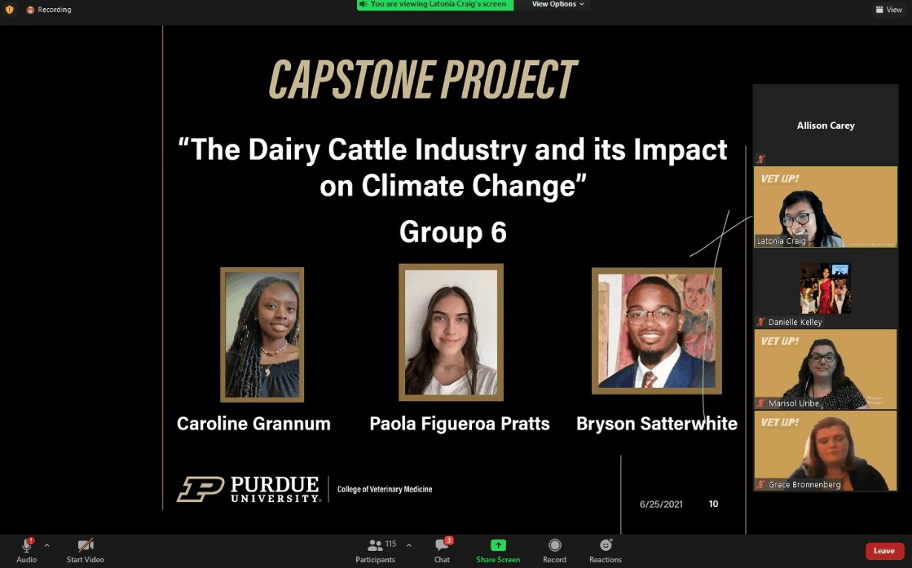 Three Vet Up! College graduates Caroline Grannum, Paola Figueroa Pratts, and Bryson Satterwhite were recognized for submitting the winning Capstone project, which selected a research topic and gave a presentation.
Before Dr. Craig concluded the celebration with an individual introduction to the 26 attendees, Dean Reed spoke to the Vet Up! College Class of 2021 by video, adding his own congratulations. "I really hope you had a wonderful experience," said Dean Reed. "This program is designed to introduce you to our college, learn more about the veterinary profession, and gain more clinical experience. You also had the opportunity to meet some of our faculty and veterinary students. "
"I hope this has influenced your dream of a career in veterinary medicine," Dean Reed continued. "I can't help but think of years ago when I had a similar dream of pursuing a career in veterinary medicine. This dream has come true for me and that's why I want this dream to come true for you. You have all worked so hard … and you are very close to realizing this dream. I hope you all will want to become Purdue Boilermakers. We would love to see you here to make your dream come true … This is a place where dreams can and will come true. "
Author (s):
Kevin Doerr | pvmnews@purdue.edu