Ad Blocker Detected
Our website is made possible by displaying online advertisements to our visitors. Please consider supporting us by disabling your ad blocker.
Greencross, VetPartners leaders expect prices of practices to fall as interest rates rise
dr Michelle Kelaway
Photo courtesy of Greencross
dr Michelle Kellaway, chief operating officer of the Australian veterinary company Greencross, practiced for four years before taking management roles, including at Qantas Airways.
The days of skyrocketing increases in the value of veterinary practices appear to be over, at least in Australia, according to senior executives at the country's two biggest corporate consolidators.
dr Michelle Kellaway, chief operating officer of Sydney-based Greencross, said sums being paid for practices could even fall, as higher interest rates push up borrowing costs for aspiring acquirers.
Any falls would come from a lofty base. In the past few years, consolidators such as Greencross have been bidding for practices at increasingly higher multiples of their annual earnings amid a rise in demand for pet care driven by the Covid-19 pandemic.
"However, more recently, we've seen multiples plateaus," Kellaway told the VIN News Service in a wide-ranging interview this week. "With interest rates expected to increase, we may start to see multiples soften."
Greencross, with 167 general practitioner clinics and 25 specialist and emergency sites in Australia and New Zealand, is Australasia's second-biggest owner of veterinary hospitals behind US-based National Veterinary Associates (NVA), which operates in Australia and New Zealand as VetPartners, with more than 260 practices.
Mark Jeffery, VetPartners' chief executive, agrees with Kellaway that froth is coming out of veterinary mergers and acquisitions. "And I think that's not limited to Australia," he told VIN News. "It's true in other markets."
Central banks worldwide have been hiking interest rates from record lows, as an uneven recovery from the pandemic and war in Ukraine push up energy, food and other living costs. The Reserve Bank of Australia, for instance, raised the country's official interest rate this week by a higher-than-expected 50 basis points in an effort to tame runaway inflation.
Still, both executives indicated that cost-of-living pressures have yet to dent demand for pet care at a time when households are increasingly considering pets as family members.
"There was a surge in demand that started back in 2020 as people went out to adopt or purchase new puppies and kittens," Kellaway said. "And that rate of growth is still strong: We're now in the third year of pet ownership increasing dramatically, and the industry already had an imbalance in terms of the demand and supply of veterinary services pre-Covid."
Jeffery theorized that a tendency for many people to keep working from home, evidenced by large rises in property prices outside major cities, is giving them more latitude to look after animals. "So I feel like there's been a structural shift in that," he said. "You still see lots of new puppies out there."
Even so, a decrease in the amount that acquirers are prepared to pay for assets could be indicative of a more cautious outlook for the veterinary sector.
In the United States, publicly traded animal health companies such as Zoetis, Idexx and Heska recently reported higher first-quarter sales. But their respective share prices have fallen by more than the benchmark S&P/500 index in the year to date amid concerns that pet owners are tightening their belts.
"As we move further into 2022, there are signs that growth rates may be moderating," Randy Freides, an analyst at Chicago-based animal health group Brakke Consulting, said in a note dated May 20.
Some market watchers believe that the US economy and many others, including Australia's, could be heading toward recession. "We know that the veterinary industry is not recession-proof, but it is rather recession-resistant — people still eat and still take care of their pets," Freides said.
Australian market gradually becoming more concentrated
A downturn-related drop in practice valuations could offer consolidators that have plentiful cash an opportunity to buy clinics at lower prices.
Jeffrey said VetPartners acquired 30 practices in the past 12 months and has no intention of slowing, contending that its offer of a flexible operating model "that supports clinical independence" continues to resonate strongly in the market.
Kellaway said Greencross, which also owns 262 pet supplies stores, is planning to expand its veterinary business through both an expansion of its own network and through mergers and acquisitions.
Both companies are backed by private-equity firms: Greencross is majority-owned by US-based TPG Capital. NVA/VetPartners is owned by Germany's JAB.
Greencross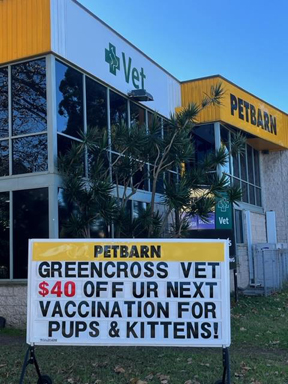 VIN News Service photo
Some of Greencross' veterinary practices are at its Petbarn stores, like the one shown in the Sydney suburb of Alexandria. A rise in puppy and kitten adoption has helped buoy demand for pet care, even as rising cost-of-living pressures strain household budgets.
TPG last year put Greencross up for sale but decided in March to sell a 45% stake in the business to Australian and Canadian pension funds, valuing the entire company at around $2.5 billion. Greencross subsequently obtained a $1.1 billion loan from US investor Apollo Global Management.
Both Greencross and VetPartners executives noted that Australia's veterinary market is more fragmented than those in the US and United Kingdom, where corporate consolidators control around 50% of all companion animal practice revenue, by some estimates. In contrast, consolidators own about 20% of the market in Australia, said Jeffery, a former executive in human health care who once practiced as an optometrist.
Attempting to grow a veterinary business quickly in the current market has proven challenging for many companies, large and small, because the supply of veterinarians hasn't kept up with pandemic-fueled demand.
Kellaway, who practiced as a veterinarian for four years before taking on senior roles in business, including at the Boston Consulting Group and in Qantas Airways' loyalty business, confirmed the market for talent is tough.
"Veterinary salaries are increasing, and we're making sure that we're constantly reviewing our salaries to ensure we're at market," she said, adding that Greencross offers benefits to help attract and retain talent, such as career opportunities that can see employees go into specialties; flexible working schedules, including paid parental leave; and investments in new medical equipment and staff well-being initiatives.
VIN News Service commentaries are opinion pieces presenting insights, personal experiences and/or perspectives on topical issues by members of the veterinary community. To submit a commentary for consideration, email news@vin.com.