"Three men enter a former bar!"
It's not a variation on the old joke. This is what happened on many Saturdays at the Wee Blew Inn for many years. After opening as a bar in 1980, the Wee Blew Inn became a diner two years later and has been serving customers for 40 years.
Technically, the bar is gone, only that a countertop – a staple among diners across the country – remains a welcoming place. Rock and roll is low volume, and beer and wine are still served.
Sitting in a cabin facing the window are friends Andy Hagberg, a former Venice resident who tints the windows, Bryan Wildasin, a Venice resident who does car upholstery and boat linen, and Skip Halback, a Venice resident who works for PGT Industries works as a fleet mechanic. They have been friends for 30 years.
Hagberg has been supporting the Wee Blew Inn for around 25 years. That day he ordered a small BLT. "The food is good," he said. "It's a good atmosphere. Good people. You are consistent. They always kept a pretty even keel as far as the formula goes for everything. "
At a time when restaurants have a 60 percent chance of failure in their first year, many of the survivors are formula restaurants.
How long has Wildasin (chicken finger basket) patronized the Wee Blew Inn?
"My son is 40 years old, so at least that (many years)," he said. "We brought Joe here when he was wearing diapers.
"The hospitality is the main thing. The food is good and the prices are right. "
Halback (cheeseburgers and well-made fries) has been a Wee Blew Inn customer since his bar and is "pretty much a resident" on Saturdays. He also serves fish roast on Fridays. "I love this place," he said. "This is my meeting place."
Tonya McDaniels learned to cook from her father, the late Mike Gartley.

Ed Scott

I remember Mike
If you go to the Wee Blew Inn before 11am and order two medium sized eggs, a side of bacon, buttered grits, and white toast, you won't be disappointed. Chef Tonya McDaniels serves them almost identically every day you walk in – the eggs are runny and perfect for soaking up the yolks with the toast. The bacon is crispy, never overcooked or overcooked. The grits are good enough to serve my southern mother. Save some toast for the jelly.
The hanging on the wall in a high-traffic area of ​​the restaurant pays homage to the reason for this championship. It's a poster commemorating Mike Gartley, the late husband of owner Debbie Gartley. McDaniels is their daughter.
Gartley, who died in 2019, played a huge role in the history of the Wee Blew Inn after Debbie bought the diner in 1998. Among them, he taught McDaniels to cook. Breakfast is her favorite food.
"If I don't like the way it looks, I won't send it out," said McDaniels, who started washing dishes there at the age of 12.
What makes dinner a dinner? Local restaurant owners respond differently to the question. Joy Hoch, owner of the Lucky Dog Diner, refers to the history of her business and a versatile cuisine. Debbie Gartley, owner of the Wee Blew Inn, says the difference between a diner and a restaurant is "Kindness, family; You have customers who come every day. Some of them come two or three times a day. "
Gartley, a native of Floridian, began working for Red Lobster at the Wee Blew Inn in 1980 after years as the dining room manager. For the first two years, the Wee Blew Inn served beer and wine from 11 a.m. to 8 p.m. Then it turned into a diner where lunch and dinner were served. As the establishment evolved, so did Gartley. She was a waitress until she bought the business from Bonnie and Harold Rich in 1998. Now she feeds the children and grandchildren of some of her early customers.
"I like restaurant work," she said. "I like my people. You are like my family. They come as long as I work here. "
72-year-old Gartley and some of her long-time customers are so familiar they playfully bump into. But her ornate chin is full of affection, like the Philly Deluxe on the menu (chicken or steak), and it's served like the Friday fish special (All You Want!).
"If Gartley wants a character reference," Hagberg quipped, "she's a great character."
Gartley has 12 employees. Among them, daughter Tonya McDaniels is a cook who comes in at 4:30 a.m. to prepare dinner for the customers. Mother and daughter have been working together since 1999. A son-in-law cooks and a grandson takes the bus on Friday evenings.
"Three women are on vacation in a villa in Venice!"
Again, no joke. Not even an alliteration exercise. Angela Anderson invited her friends Dana Joiner and Judy Conklin to come from northeast Florida to celebrate Joiner's 50th birthday.
"My best friend chose (Venice)," said Joiner. You were drawn into Lucky Dog because of the brightly painted exterior.
"We were drawn to the orange and blue," said Joiner, a Gainesville resident. "Quirky! Like an old dinner. "
Hoch says it's a Key West theme and describes it as "artsy-farty" and "strandy".
The women ate outside on a sunny Wednesday.
Conklin, who lives in Lake City, says it was a pleasure coming to Venice during the pandemic. She had only been in town for 30 minutes when the trio picked Lucky Dog for lunch.
"The mark is what I noticed," she said.
Conklin had never been to Venice before this trip, but he already sounds like a snow bird. "I can have two houses," she wavered. "I could wake up every morning (in Venice) and hear the sea, have a cup of coffee outside, go to my favorite restaurant for brunch, go downtown, go to stores, buy something in the supermarket, go home and have a barbecue and then walking on the beach before going to bed. "
A little piece of history
Lucky Dog opened 68 years ago. Hoch thought it was "a diamond in the rough" and bought it in 2013 with her ex-husband Greg.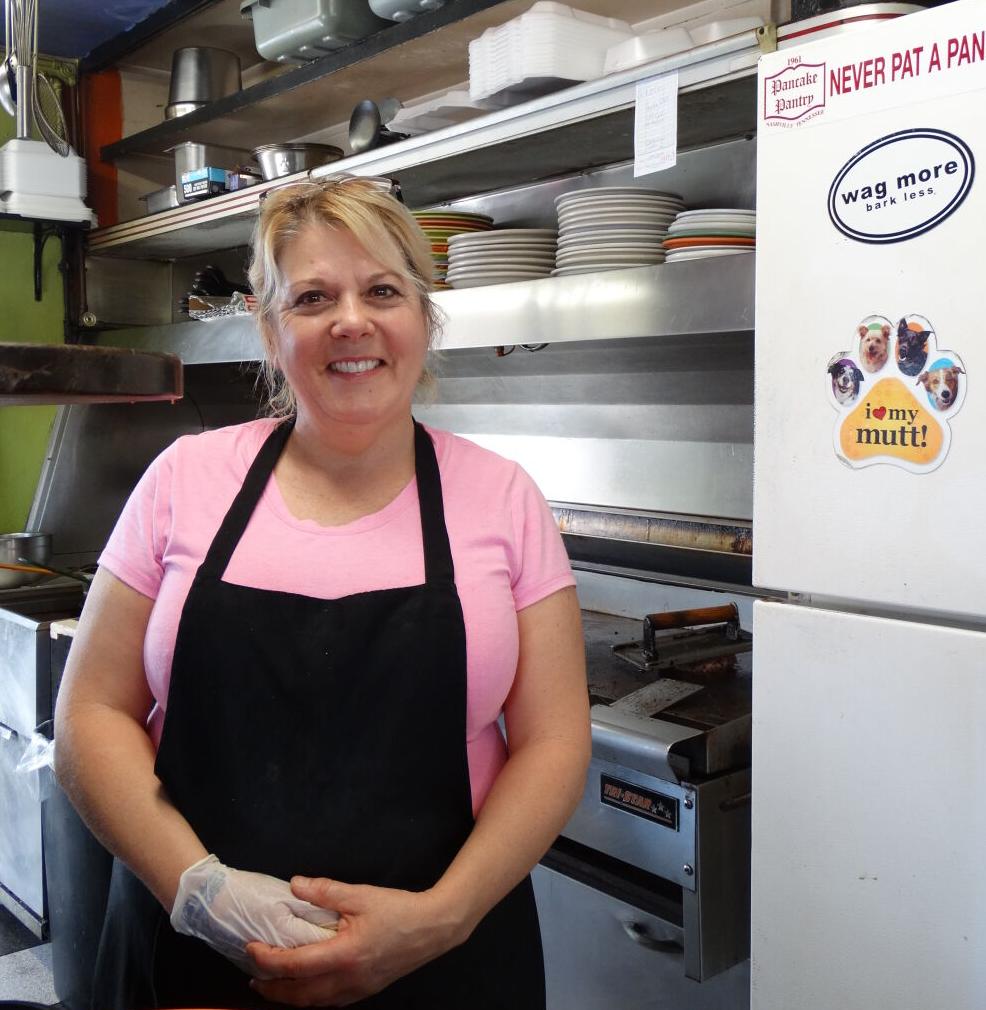 Happy dog ​​owner Joy Hoch

Liz Green

Are guests a dying breed?
Diners have a unique charm. But at a time when big chains can invest millions in new restaurants, are diners a breed dying out?
"I think we are," said Hoch. "Because companies (restaurants) squeeze us." She hopes Lucky Dog's business will pick up after the onset of the COVID-19 vaccines.
Gartley says the pandemic has hurt their business "a little". Their main concern is the road building in front of their door, with the crews busy widening the road.
"I barely survive, but it works. My locals keep coming back. This helps. I do a lot to take away. "
When you go
Wee Blew Inn (590 US Highway 41 Bypass S.) is open from 6:30 am to 8:00 pm and serves breakfast, lunch, and dinner every day except Sundays.
Happy dog (602 Tamiami Trail S.) serves breakfast and lunch and is open Monday through Saturday from 7:30 am to 2:30 pm. It's also open Tuesday through Friday from 4pm to 8pm for Spanish flair (tacos and other Spanish food).
Find your diner
ENGLEWOOD
Country dog
1951 S. McCall Rd., Ste. 530 | (941) 474-7767
Maria restaurant
60 S. Indiana Ave. | (941) 460-6063
Spinnaker Café
3542 N. Access Rd., Ste. D | (941) 475-2238
Wink's Old Town Grill
451 S. Indiana Ave. | (941) 474-7777
PORT CHARLOTTE
Hometown grill
1931 Tamiami Trl. | (941) 629-5898
Little Good Times Diner
1932 Kings Hwy. | (941) 625-1115
My Jeanne Riverside restaurant
22637 Bayshore Rd., Ste. B | (941) 743-0010
Morgan's Cafe
4300 Kings Hwy., Ste. 410 | (941) 625-3400
Peters family restaurant
2200 Kings Hwy. | (941) 743-2454
Candy diner
2300 Tamiami Trl., # 9 | (941) 624-3700
BOLD TIP
Elena's South Restaurant
615 Cross St. | (941) 575-1888
John Ski's home of breakfast and lunch
502 King St. | (941) 347-7645
Penny's Restaurant
1133 Bal Harbor Blvd. | (941) 347-8106
VENICE
Jim O'Hara's Cafe
3974 Tamiami Trl. S. | (941) 493-1413
Mitch's kitchen
789 US Highway 41 Byp. S. | (941) 485-6092
The original word of mouth
1740 E. Venice Ave. | (941) 218-6509
Patches family restaurant
501 E. Venice Ave. | (941) 484-6713
Shamrock Cafe
759 Shamrock Blvd. | (941) 244-0795
Suncoast Cafe
400 Airport Ave. E. | (941) 484-0100
The previous owner – a dog lover – had it nearly five years and renamed the facility "Lucky Dog". The name created branding problems for Hoch. It's not a hot dog stand, she says firmly.
"It was a fight over what people wanted," she said.
Over the years, Lucky Dog's menu has featured five different Benedicts eggs, craft omelets, half a pound burgers (hand-tapped daily), a nearly six-ounce Maine lobster, lasagna, shrimp tacos reuben and a fish-reuben offered item. Everything is homemade. Hoch says anyone in no hurry will enjoy their menu.
Their fish tacos were featured on the website of the popular Food Network show "Diners, Drive-Ins and Dives" by Guy Fieri. Now customers from Brazil, Canada, Germany, Italy, Russia and other distant places come to Lucky Dog and ask about Fieri, who did not come to Venice during the promotion.
"If you come here, you want to go to the Lucky Dog," said Hoch about vacation customers. "And if you want to support your family on a budget and don't want to break the bank, go to the Lucky Dog."
Hoch says it feels good when customers come here and say, "Do you remember me? I came here last year. "
Memories are made at Lucky Dog. Hoch remembers the first beer she sold after getting an alcohol license. Their clients were a couple from Ohio and it was a Bud Light on Fish Taco Friday.
"I think it's a hidden secret," said Hoch of their dinner. "We have our locals and they bring their friends who enjoy it, but it was a struggle because of the name."
Changing the history of the restaurant's name would create a number of new problems. But Hoch has no problem with the history of the structure that sits in front of Venice Regional Bayfront Health.
According to Hoch, Lucky Dog is one of the original Valentine guests. These small, narrow, prefabricated mail order structures were made after the Great Depression. (Lucky Dog, made in the northeast, might be the last in Florida, Hoch said.) The restaurant's location on US Highway 41 Business was a prime spot to draw hungry motorists before the interstate system was built.
Hoch is from Cape Cod, is Portuguese and Italian, and cooks food from both countries. At 55, she honed her craft with The Keys Fishery in Marathon, Florida Keys, where she lived for 14 years.
Their menu also includes diner-style dishes such as burgers, french fries, onion rings and milkshakes, because "that's what people want".
One of Hoch's regulars is Rocky Reid, an environmental technician from the City of Venice who supports Lucky Dog once or twice a week.
"She's like an adoptive sister," Reid said of Hoch. "She has the best burgers I know and she has the best tacos. The food is pretty darn good.
"Wee Blew is also a great place to eat," added Reid, a 21-year-old Venice resident. "I eat there occasionally. The owners there are excellent. They are patient and will definitely give you a (large) serving amount like they do here at Lucky Dog. "