Ad Blocker Detected
Our website is made possible by displaying online advertisements to our visitors. Please consider supporting us by disabling your ad blocker.
A dog begging to go for a walk in the rain soon regretted his decision after he was faced with the freezing cold elements, and a hilarious video caught his abrupt U-turn.
Owner Sarah Hopkins shared a clip to her TikTok account, @sarahhopkins06, after filming her Boston Terrier pleading to go for a walk, as he whined at her while in the car.
Hopkins, from Wales, captioned his pleas "before," as she recorded the treacherous weather outside, telling him: "But it's raining. You okay to get wet? You're going to get wet mind, and it's really windy."
He continued his protests, as Hopkins asks him: "It's absolutely hammering it down mind, it's cold. You ready?"
She films the pair mid-walk, with the wind so ferocious it's audible on the mic, as her dog trots along in a coat.
Any dog ​​owner—and according to Statista data from 2021/22 there are 69 million US households with a mutt—will know you often end up outside in all weathers.
And our furry friends seem to love their daily strolls, with the internet awash with videos of dogs' ears pricking up as soon as you say "walkies."
VCA Hospitals explained regular walks are good for a dog's health, including in preventing obesity, strengthening their joints, and aiding digestion, as well as having mental and emotional benefits.
They added: "Dogs do not like to be bored and if you give them something constructive to do, like taking a walk, they may be less likely to do something destructive, like chewing the couch.
"Walking exercises the mind as well as the body. Watching wildlife, exploring new paths, seeing other people with their pets, and so on, are great mental stimulation for your dog that he just cannot get in the same fenced area all the time.
"Walking also releases excess energy and helps dogs sleep better at night."
Hopkins films him after they've returned to the safety of the car, and he looks suitably ashen-faced after his ordeal. Now in a towel Hopkins asks: "Was it as much fun as you thought?"
She asks to see if he'd like to go back out, and gone are the defiant whines from earlier, as he begins to shiver and look horrified.
"No? It's cold isn't it, told you, didn't I," she tells him, observing: "Well that's a change of tune isn't it, was it too cold for you."
She asks if he wants to "go home," and he shivers on his towel, clearly indicating his preference.
Hopkins captioned the video: "Even dogs make bad choices." It's been seen more than 2 million times since being shared on Monday, and can be watched here.
Numerous people found his reaction hilarious, as D0ctorFoster commented: "He actually started shaking when you asked him if he wanted to go back out."
Beth said: "The look of regret after. Oh dear."
Nicci wrote: "Poor thing lol! You triggered his ptsd when you asked if he wanted to go back out! Bless him."
Stacey pointed out: "Awww he was like why did you let me make that terrible decision."
While Samantha Massa added: "I love how when you asked if he wanted to go for a walk after the fact he started shivering!!! you can so tell he was a like this was a bad idea!!!"
This graph below, provided by Statista, charts the change in popular dog breeds over the 10 years to 2020.
The infographic below, provided by Statista, illustrates that golden retrievers are the fourth most popular dog breed in the US
extra
After the dismal walk went viral, Hopkins shared an update with followers, as she filmed her pet tucked up in a blanket on a couch, nice and warm.
She joked: "You over your really traumatic experience now? Over your awful, awful experience huh?
"The weather's horrible again today, look. Do you want to go for a walk, in the rain?"
It seems her beloved pet was having none of it, as Hopkins laughed: "Don't you look away from me, cheeky. Don't want to go out in the rain?
"Did you learn your lesson, you cheeky thing. Won't make that mistake again, mum."
Newsweek reached out to Hopkins for comment.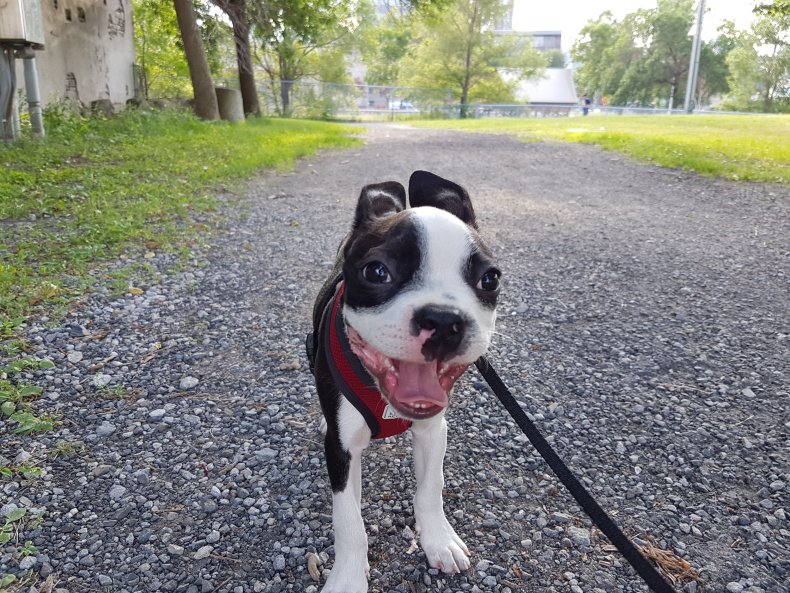 File photo of a Boston Terrier. A dog's disastrous walk has gone viral on TikTok.
Anna Belle Filion/Getty Images