Record collectors are like archaeologists. They search. They dig. They discover. They travel to obscure record stores in towns nobody ever dreams of visiting. Meet record store clerks who start off as total strangers but end up being life-long friends. They meet fellow obsessives, who are on their own scavenger hunts. You've seen them before: Wearing faded blue jeans and dark denim jackets, with tote bags hanging off their shoulders, they plant their flag and begin the excavation. They crotch down like catchers, flipping through vinyl after vinyl stacked together in old milk crates. Their eyes scanning every record like Indiana Jones sizing up that golden monkey. They are treasure hunters.
If you want to kill some time, just ask a record collector about their greatest obtainment. Then brew a pot of coffee. Because you will not hear about a single record, but several. One exploration will lead to another. Before you know it, you are five records deep. Sure, the coffee is cold now, but you too are entranced by the hard bop saxophone jazz of Billy Paul's "Love Buddies" to give a shit. There are stories upon stories to be told when discussing a prized record: where one found it, how it almost fell into the hands of a rival collector, how much the record set the collector back. And then there's the crowing over the artist themselves. How this more obscure recording is the artist's true masterwork, not the one Rolling Stone gave four stars. That one is for the know-nothing crowd.
Zachary Wright is one such collector. Wright is also the founder of Dirt Dog Records, based out of the living room of his apartment on the fringes of the Silverlake neighborhood of Los Angeles. It's a dusty area of ​​town, mostly laundromats, Asian-centric food markets and a Jehovah's Witness hall. Wright and I were introduced to each other through a mutual friend, the drummer Jono Berenstein. Berenstein holds the beat for Brooklyn psych-pop outfit Dropper, Dirt Dog's first official label sign. Their debut album Don't Talk To Me dropped back in February 2022. Wright graciously invited me over to his domain to talk about the future of Dirt Dog, selling records out of his home, and, of course, to sample his collection.
Zachary Wright on the couch with some of his most prized albums, including Beck's Midnight Ventures. Credit: Mike Postalakis
Wright, 38, was born in Haverhill, Massachusetts; bounced around a lot as a kid, before landing in Fresno, California, for his senior year of high school. That year he received his first record player — a period (the very early aughts) where buying a record player (especially your first one) is certainly behind the times. Or way ahead of the times. What's old is new again and whatnot. Anyway, during that summer, Wright spent whatever money he had scrounging the bargain bins at thrift stores and flea markets, slowly building his collection. After graduating, he moved down to Los Angeles in a station wagon filled with his clothes, $800 in his pocket and a crate of 50 records. Over the years, Wright has supported himself by working as a photographer and as a producer for numerous music videos, including Meek Mills' "Going Bad" featuring Drake. Now he is hoping to add record label and store owner to his already impressive résumé.
The records are the first thing I noticed upon entering Wright's abode. They line the fern-colored walls, floor to ceiling. There is a tall bookshelf in the living room equipped with large wood-frame speakers. A smaller shelf stands by the front door. Random crates filled with more random records are scattered around the rooms. Wright invites me to check out the collection and pull any record I want to hear. I landed on Super Session (1968) by Al Bloomfield, Al Kooper and Steven Stills. We both sat, he taking the couch, while I picked an armchair, and allowed the bluesy pop take of Dylan's "It Takes A Lot To Laugh, It Takes A Train To Cry" to engulf the room. That track was followed by a groovy cover of Donovan's "Season of the Witch."
I asked Wright about running a record store out of his home, during a pandemic, no less. How does one let on to the horde of LA's collectors about a vinyl speakeasy?
"Social media and personal contacts were the two main sources," Wright tells me. "I have a lot of people I just know from being in the LA music scene for years that came out, followed, shared and helped make it something very cool and kind of underground."
Selling mostly to local musicians and DJs, Dirt Dog Records became one of those very-LA "if you know you know" kind of situations. "I would love a broad audience," he says. "But I am very happy with the small word-of-mouth situation I have found myself in."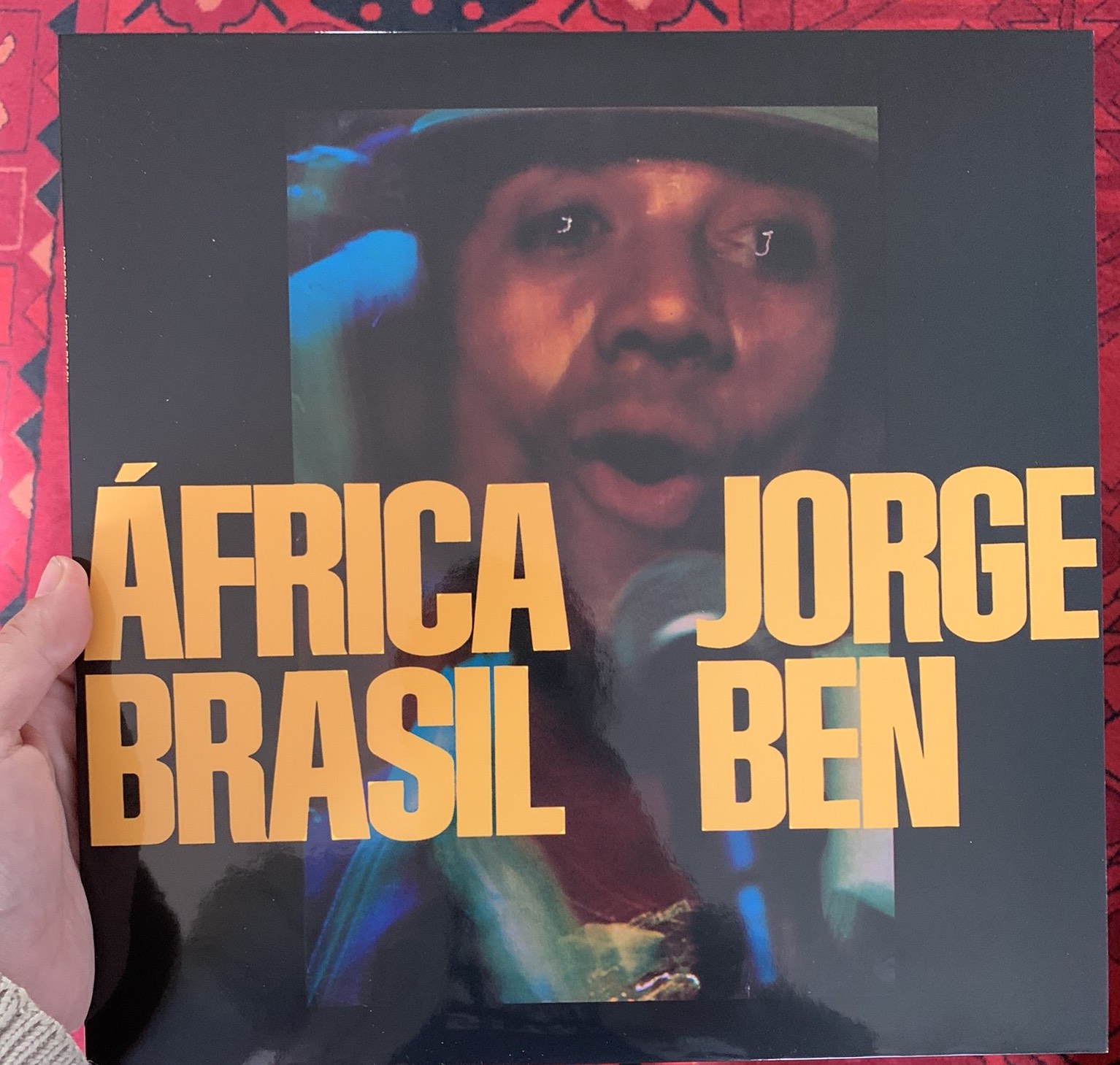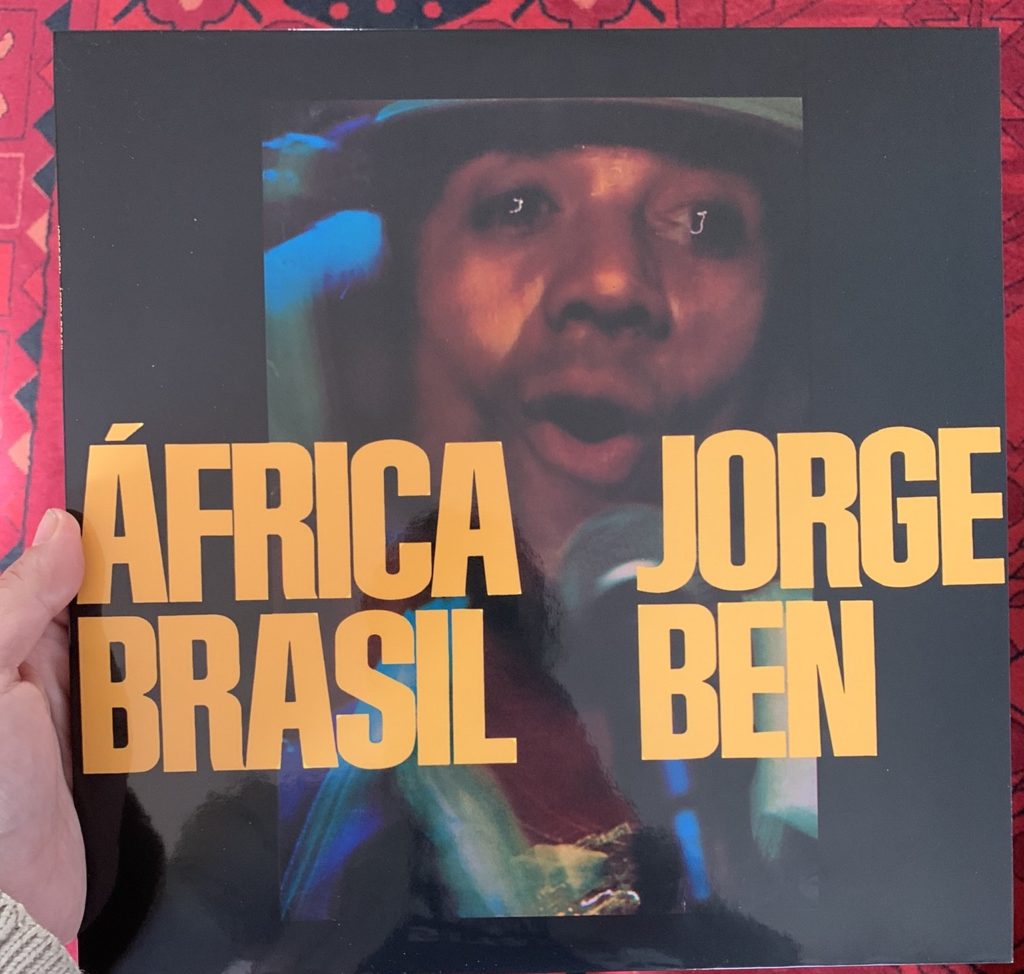 A record that was sexy years before anyone thought Rod Stewart was. Credit: Mike Postalakis
Much to my excitement, I noticed on the shelf a copy of Brazilian singer-songwriter Jorge Ben's África Brasil, a record I only recently discovered thanks to Spotify. Released in 1976, this was Ben's fourthteenth studio album, but his first to feature mostly electric guitar. The album's opening track, the supremely funky thumper "Ponta De Lanca Africano" became a staple at soccer stadiums across Africa. Wright fills me in on Ben's incredible career, including suing former Faces frontman and notable beer chugger Rod Stewart for lifting the melody of Ben's "Taj Mahal" for his closing-time anthem "Do You Think I'm Sexy?" Stewart lost the case and was forced to pay Ben royalties.
Swapping Ben for The Rolling Stones' psychedelic sell-out (but still immensely listenable) Their Satanic Majesties Request (1967), Wright speaks of his biggest passion, and the impetus for creating not only his record label, but an eventual decked out listening room , which he has dubbed "The Wax Museum," which is finding — and nurturing — unsigned bands.
"The full vision I have," he says, as "She's A Rainbow" permeates my ears, "is not only a record shop, but four listening rooms, each decorated to a different decade. To fill out the vibe, a full-scale studio, one that is affordable to local artists."
Ideally, Wright would love to attract bigger artists, say Jack White, who could spend an afternoon recording a cover that they would allow Dirt Dog to press as a 45". The profits would then be spread around to his roster of artists, and so-on and so-forth. Eventually, Dirt Dog Records would employ mental health associates and legal advisors all with the admirable aim to guide artists as they enter a historically cut-throat industry.
"At this point, it's just me with a bunch of record crates in my apartment. Hopefully it scales up quickly."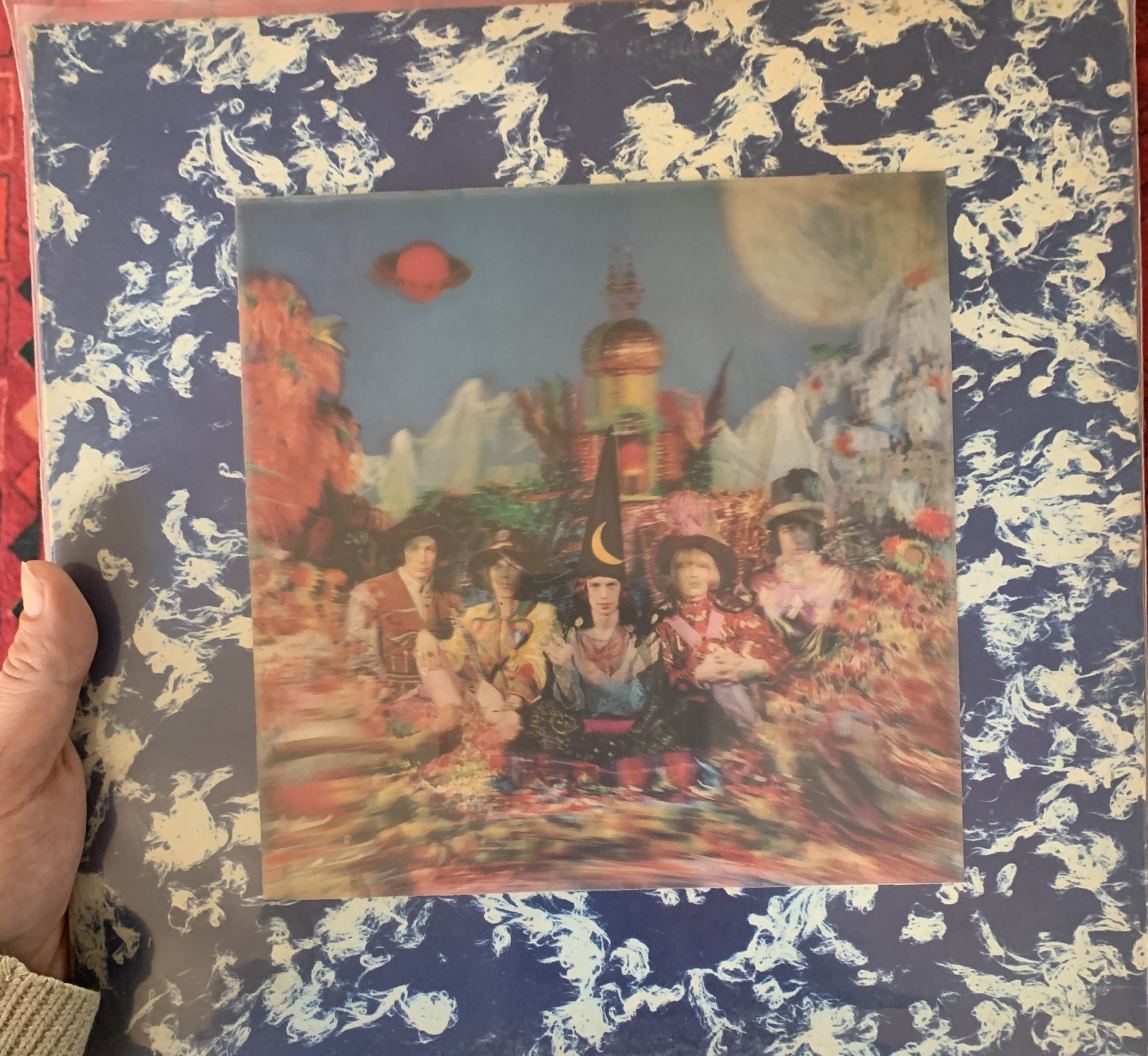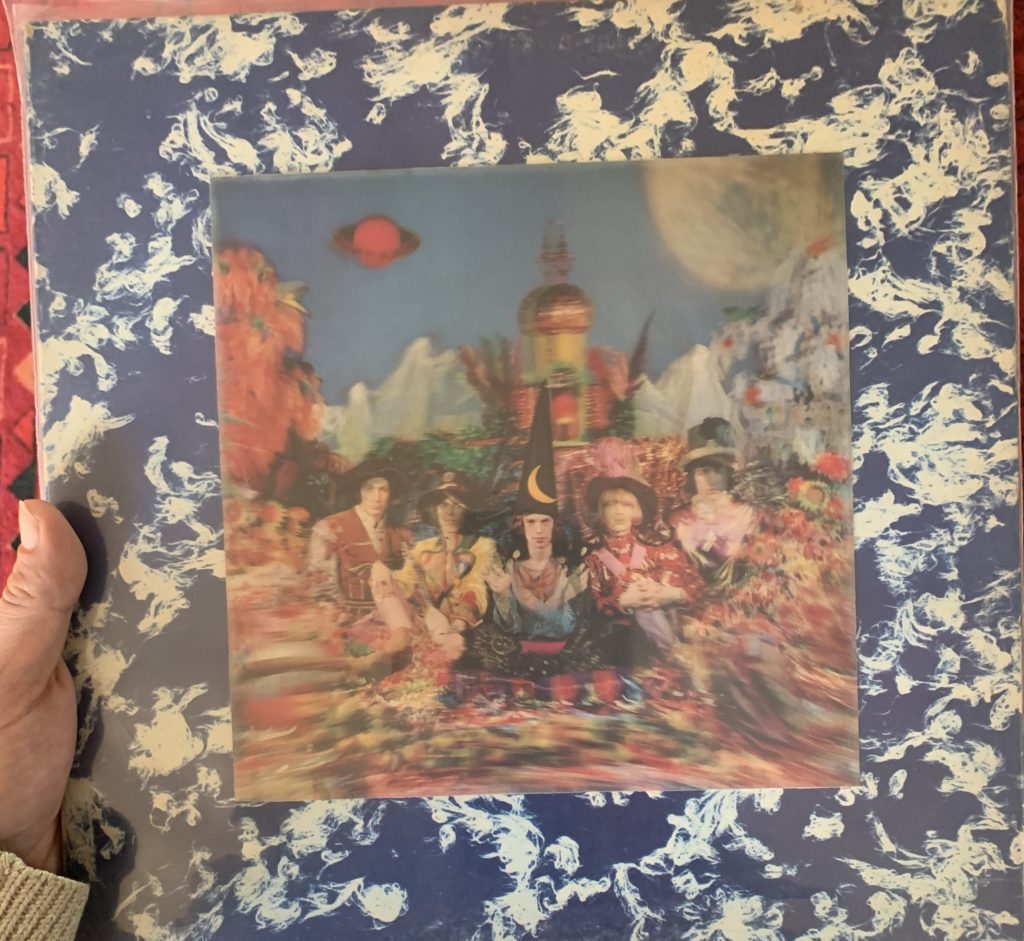 Groovy at its grooviest. Credit: Mike Postalakis
As the sun continues its schlep towards the west, I finally ask Wright which record was his great, white whale. "Midnite Vultures," he says, beaming. "Searched for it for almost two decades, got close once, but a guy snagged it the moment my eyes caught it. Copies on eBay went for thousands of dollars. And those weren't even sealed. Finally, I came across a copy a few years back at a record store. Mint condition. Three hundred dollars. Now I own it and I probably play it more than I should."
Beck's turn-of-the-millennium funk slash hornball record has been out of print for years now. Only ten thousand were originally pressed. Now that Wright owns one, what next record does he hope to own?
"There's so many!" Wright says, as he heads towards his kitchen. As I get comfortable on the couch all over again, he asks, "You want me to put on some coffee?"