COVID fear does not spare anyone. Can pets get sick and die from it? Can you give it to your people? Can we infect them? Surrounded by all this fear, can we practicing vets survive the tension?
We spend so much time answering questions, sometimes the same questions, just phrased a little differently, from the same nervous customers. We have some reliable research to share, but their fears can consume our time and mess us up even more than we already are. Facts can help.
The SARS-CoV-2 virus, the organism responsible for the human pandemic, has been studied in cats and dogs. Here's what we know – until now.
A recent paper, "Natural SARS-C0V-2 Infections, Including Virus Isolation, in Seriously Tested Cats and Dogs in Households with Confirmed Human COVID-19 in Texas USA," by Sarah Hamer and colleagues conducted a longitudinal study in live pets with at least one person infected with SARS-CoV-2. The researchers found: "47.1 percent of 17 cats and 15.3 percent of 59 dogs from 25.6 percent of 39 households were positive for SARS-CoV-2 via RT-PCR and genome sequencing or neutralizing antibodies. Virus was isolated from a cat. The majority (82.4 percent) of infected pets were asymptomatic. "The authors concluded:" Despite the extraction of live SARS-CoV-2 from a breath sample from cats, this study does not provide any evidence that pets have a role the transmission of the virus to humans or other animals. "
I contacted the lead author of this article. Dr. Hamer stated, "A great finding from our research so far is that most dogs / cats that tested positive are either asymptomatic or had only mild symptoms as reported by their owners (e.g., a few days of lethargy or sneezing). . We were fortunate enough to resample positive animals over time in our study. All cases resolved their infections without veterinary intervention. "
The last sentence helped me when I was talking to customers. I declare that as yet there is no evidence that we should be concerned about sharing affection with our pets. I add that I will continue to review new information as it becomes available. Animal lovers, most of them anyway, love research. You hang on to every word.
Another study entitled "SARS-CoV-2 Infection, Disease and Transmission in Domestic Cats" by Gaudreault et al. showed that experimentally exposed cats were only temporarily infected. They did not show the virus in their blood, but it was found "in nasal, oropharyngeal, and rectal swabs and bronchoalveolar lavage fluid, as well as in various tissues". These cats developed antibodies, but none of them showed symptoms in this study. In other words, if they hadn't been tested, no one would have suspected anything.
So pets can get COVID from humans and it is possible for them to get sick, but none of these are known to date and they have not infected a human. Still, talking about illness and death can add to the stress of a struggling animal lover. Emotions can be fragile; People are vulnerable right now. Empathy and kindness are our best means of communication, but logic still has its place.
Veterinary pathologists, like all scientists, know that new information will further sharpen our understanding of how COVID behaves in animals. It is currently believed that dogs are very unlikely to be involved; Even if cat-to-human transmission is theoretically possible, there is essentially no risk.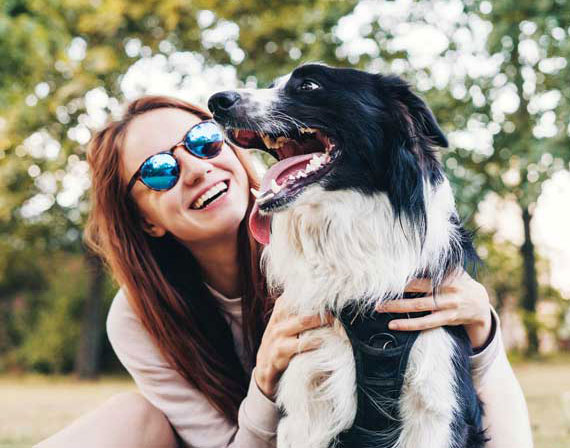 Cuddling and close contact don't have to stop with beloved pets. Let customers know that if pets and humans pass the COVID virus on to each other, they don't worry. Such fears resulted in unnecessary deaths during the 1918 pandemic.
Photo courtesy of Xsandra / E + / Getty Images
Only a small fraction of our clients have significant medical knowledge. If they call us during normal hours, they want their pets to be better off. With COVID in the air, they also want to control their "Heebie-Jeebies" over their own well-being. And of course they want definitive answers to questions like "Can my cat get COVID?" "Can it die from it?" "Can she give it to my family?" It's a yes-or-no question, doc.
In the broad field of biology, many things are possible, but highly improbable. Scientific conclusions should always be drawn in context. We cannot base our current knowledge on evidence; rather, on the weighting of the evidence – which can of course change. The layman does not want to hear that we lack rock-solid evidence. But when they trust us that we're patient with their concerns and straightforward with our responses, we have a chance to help them feel better.
Working with desperate people is tough. Whether or not we took care of it when we applied for veterinary school, it's part of our job. But instead of dreading these conversations, we can see them as an opportunity to help others with their stress. That sounds great, but I didn't just fall off the beet truck. I've been around for a while and got hit flat out as often as anyone else.
After giving clients a thoughtful explanation of a complex medical challenge, I was occasionally asked, "Are you sure?" I doubt any of us would like this question. You can answer, "No, we are not sure," but that frank answer never inspires confidence. Trust me; I made this mistake.
As one veterinary pathologist pointed out, we should be more concerned about getting this dire disease from the infected human who may have shared it with a pet, rather than the pet itself. Depending on the situation, I may explain the precautions I take with meet my own pets (I enjoy them with devotion), but with people outside of my immediate household – I play it safe. We vets are trusted medical professionals who understand the transmission of viruses in the air. Our customers see us as role models. I wear a mask, avoid indoor gatherings and keep a distance of at least two meters. My own pets? You don't worry me at all.
This whole COVID debacle is full of challenges. Confusion and disinformation are nothing new. The mass hysteria during the 1918 flu epidemic was heavily influenced by rumors that spread like wildfire. Even without social media as an accelerator, many anxious families succumbed to the unsupported idea that dogs could be carriers. Beloved dogs were abandoned and euthanized in hopes of saving lives. Pets played no role in this crisis. Again, nobody has to distance themselves from their cats or dogs.
They call the practice of medicine an art. Well I think so. Fear of zoonosis can be difficult to fight, especially for people who live with anxiety. The empathy we show them also benefits their pets. To say gently, "I understand how you feel" also gives us a boost. Brief comments to support customers and employees reduce our drift towards burnout.
We don't have to do everything. The Centers for Disease Control and Prevention (CDC) have great resources for pet owners who want all of the information they can find, including the statement, "Tests for COVID-19 in animals are available for most types of pets, but tests are becoming only recommended for animals with COVID-19 symptoms and have been exposed to a person with COVID-19. "There is much more. I suggest adding the following links to your hospital's website.
For pet owners: https://www.cdc.gov/coronavirus/2019-ncov/daily-life-coping/pets.html
If a pet tests positive: https://www.cdc.gov/coronavirus/2019-ncov/daily-life-coping/positive-pet.html
And for risk management in our facilities: https://www.cdc.gov/coronavirus/2019-ncov/community/veterinarians.html
This epidemic was really exhausting. People are affected differently. People who express tension, fear, worry, and impatience in their tone of voice need the best we can give. Even more than the facts of COVID research, they long for reassurance.
We can teach our employees good listening skills by simply practicing them. They will hear us repeat a person's question to make sure we understand their concern. They will follow our example if we use simple language in a calm tone. People around us will feel better if we end these conversations with "stay safe".
Don't forget to sit back – at every opportunity – and take a few deep breaths to oxygenate your brain. You have just improved a real person's wellbeing. The pets in this home won't miss out on the healthy changes in their body signaling and behavior. We are doing important work. We are reliable. Let's take good care of ourselves so that we can do this again tomorrow.
Jeff Nichol, DVM, received his undergraduate degree and graduated from Michigan State University's Veterinary School. He owned a veterinary clinic and has practiced general and behavioral medicine for most of his career. Dr. Nichol graduated from the American College of Veterinary Behaviorists with a residency in behavioral medicine in 2015. His current practice in Albuquerque, New Mexico is now limited to diagnosing and treating behavioral disorders in pets. Medical comorbidities are a common feature of his case load.