Ad Blocker Detected
Our website is made possible by displaying online advertisements to our visitors. Please consider supporting us by disabling your ad blocker.
BOONE, NC — Appalachian State University received approval from the University of North Carolina's System Board of Governors on Jan. 20 to offer a Bachelor of Science degree in veterinary technology beginning in fall 2022.
The new online program, pending approval by the Southern Association of Colleges and Schools Commission on Colleges, will offer a four-year degree with on-site clinical training that will prepare and guide students to meaningful employment in the growing veterinary profession Opportunities for advancement for those already working in this field.
The program was developed through a partnership between App State and Banfield Pet Hospital® – the leading provider of preventive veterinary care in the United States and part of the Mars Veterinary Health family of practices. A recent study by Banfield found that an estimated 75 million pets in the US may not have access to the veterinary care they need by 2030, with a major factor being a critical shortage of veterinary professionals.
As part of the partnership, Banfield made a multi-million dollar commitment to develop App State's new four-year online Veterinary Technology degree.
"We are proud to enter into such an innovative partnership to meet market demand for qualified veterinary professionals, particularly in rural areas," said App State Chancellor Sheri Everts. "Thank you to Banfield, the UNC Board of Governors and the UNC System for their continued support of this visionary academic program that will advance the profession and elevate the role of Licensed Veterinary Technicians. We look forward to welcoming our first class of students in autumn 2022!"
Housed within the College of Arts and Sciences Department of Rural Resilience and Innovation, the App State Online program combines Bachelor of Science credentials with preparation for veterinary technician certification. An interdisciplinary team of faculty, staff and external collaborators worked to develop a curriculum—based on the standards of the American Veterinary Medical Association Committee on Veterinary Technician Education and Activities—that will become a model for the development of veterinary professional talent.
dr Virginia Kiefer Corrigan, pictured with her 13-year-old golden retriever Yogi, is the new program director for Appalachian State University's four-year online Bachelor of Science in Veterinary Technology. Photo by Amy Gray, Silver Pebble Photography
App State appoints director of new program
dr Virginia Corrigan has been appointed Director of App State's Veterinary Technology Program. Corrigan brings over a decade of experience as a pet veterinarian and educator with a clinical focus on rehabilitation, hospice/palliative care and pain management for dogs and cats.
"DR. Corrigan brings an impressive combination of experience, skills and vision to build a new outstanding program that aims to transform the way veterinary technicians and veterinary nurses are trained, employed and rewarded," said Dr Mike Madritch, acting dean of App State's College of Arts and Sciences.
Since 2016, Corrigan has been an Assistant Professor at the Virginia-Maryland College of Veterinary Medicine at Virginia Tech, where she completed a three-year postdoctoral residency program in advanced canine and feline practice and earned diplomatic status with the American Board of Veterinary Practitioners in 2015.
Corrigan earned a Masters of Public Health with a concentration in human-animal bonding studies from Virginia Tech in 2016 and holds a Bachelor of Arts in Zoology with a minor in Neuroscience from Miami University in Oxford, Ohio, and a Doctor of Veterinary Medicine from the university from Tennessee, Knoxville.
She was enrolled in one of the inaugural classes of the American Veterinary Medical Association's Future Leaders program and is currently a member of the AVMA Steering Committee on Human-Animal Interactions. She has also served as a moderator with the Veterinary Leadership Institute.
"Veterinary medicine is a phenomenal career choice; Veterinary professionals have the opportunity to make a significant impact on animal, human and environmental health," said Corrigan. "There are many exciting opportunities emerging in this profession for veterinary technicians and veterinary nurses, along with an increasing market demand for their skills, knowledge and expertise."
For more information about the program or how to apply, visit App State Online's Veterinary Technology Program page.
What do you think?
Share your feedback on this story.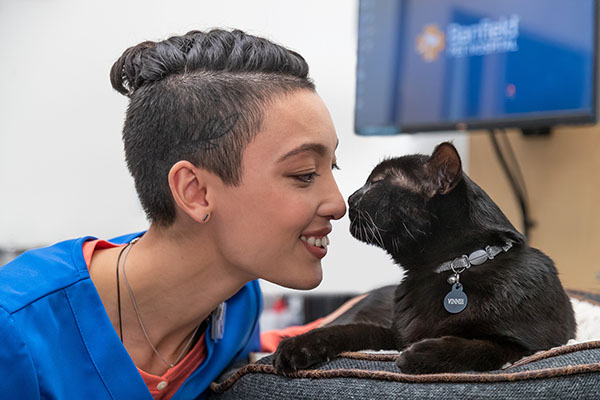 The first program of its kind will help meet the increasing demand for pet care
February 10, 2021
Banfield Pet Hospital® has made a multi-million dollar pledge to App State to support the development of a four-year online Licensed Veterinary Technicians (LVTs) program to meet market demand for qualified veterinary professionals.
Demand for pet care is increasing, with an estimated 75 million pets in the US who may not have access to the veterinary care they need by 2030. Now it's time to become a Licensed Veterinary Technician (LVT).
About Banfield Pet Hospital®
Founded in 1955 in Portland, Oregon, Banfield Pet Hospital® is a pioneer in preventive veterinary care today with more than 1,000 general animal hospitals in 42 states, Washington, DC and Puerto Rico. More than 3,600 Banfield veterinarians are committed to providing quality veterinary care to more than 3 million pets annually. As part of the Mars Veterinary Health family of brands, Banfield is dedicated to its purpose – A Better World for Pets™ – because pets create a better world for us.
Via App State Online
Recognized by US News and World Report as one of the top online education destinations in the country, App State Online (formerly known as Distance Education) is designed to meet students wherever they are — whether they're graduating or graduating are looking for or are looking to sharpen their personal and/or professional skills. Through App State Online, Appalachian State University offers innovative, flexible, and accredited undergraduate and graduate programs through two teaching methods: online and off-campus. Learn more at https://online.appstate.edu.
About the College of Arts and Sciences
Appalachian State University's College of Arts and Sciences (CAS) is home to 17 academic departments, two centers, and one residential college. These units include the humanities, social sciences, mathematics and natural sciences. The aim of the CAS is to develop a distinctive identity that builds on the strengths, traditions and unique location of our university. The College's values ​​lie not only in service to the University and the local community, but also in inspiring, training, educating and supporting the development of its students as global citizens. More than 6,400 students are enrolled at the college. Because the college is also instrumental in implementing App State's general education curriculum, it is heavily involved in the education of all students at the university, including those pursuing majors at other colleges. Learn more at https://cas.appstate.edu.
About Appalachian State University
As the premier public undergraduate university in the state of North Carolina, Appalachian State University prepares students to live purposeful lives as global citizens who understand and accept their responsibility for creating a sustainable future for all. The Appalachian Experience fosters a spirit of inclusion that inspires people to come together to learn and create, grow holistically, act with passion and determination, and embrace diversity and difference. Located in the Blue Ridge Mountains, Appalachian is one of 17 campuses in the University of North Carolina system. Appalachian has more than 20,000 enrolled students, has a low student-to-faculty ratio, and offers more than 150 undergraduate and graduate degrees.